Núi Bà Đen – Black Virgin Mountain
Our first excursion outside of Saigon was to the nearby city of Tây Ninh. We would be testing the waters of "travel in Vietnam" with this simple two-day, one-night trip, during which we'd visit the Holy See of Cao ?ài and the tunnels of C? Chi. Our first order of business, though, was a trip to Núi Bà ?en, or Black Virgin Mountain.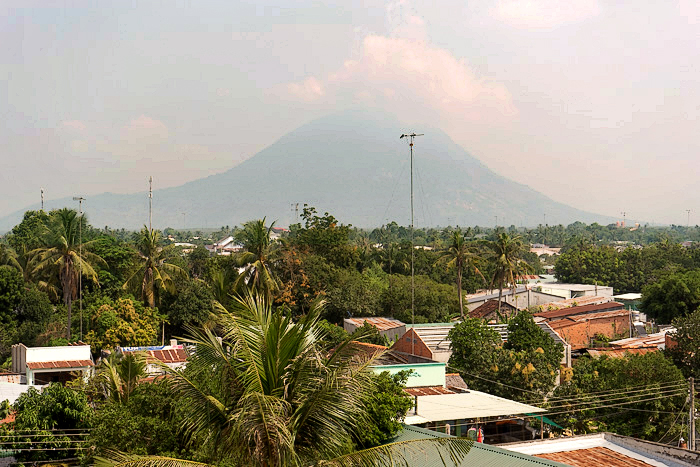 Black Virgin Mountain is an extinct, cone-shaped volcano, which sits prominently on the horizon of the otherwise flat Mekong Delta, like one of the hats worn by Vietnamese women. The mountain is about ten kilometers to the northeast of Tây Ninh, so after disembarking the bus from Saigon, we had to arrange additional transport. In Vietnam, it's a pretty good guess that if you see a guy sitting around on his motorbike, he's at least an amateur taxi-driver. We immediately found two likely suspects, made the "vroom-vroom" throttle gesture, and were soon motoring toward our destination.
It didn't surprise us to learn that there's a legend associated with Bà ?en Mountain. I mean, with a name like "Black Virgin", a legend is practically guaranteed. There are a few variations, but the common thread concerns a young woman who lived on the mountain. She was to be married to a brave soldier, but while he was off fighting, a group of bandits tried to kidnap her. Rather than lose her honor, she threw herself from a cliff.
Bà ?en is by far the highest vantage point in the region, and so its summit was of major importance during the Vietnam War. The Americans claimed possession, but were constantly plagued by the Viet Cong, who used the mountain's caves for hiding and launching sneak attacks.
Today, a more peaceful atmosphere reigns at the mountain, which has become a kind of religious theme park. After paying a small entrance fee, we walked past dozens of shops selling souvenirs and snacks, and boarded a gondola. There are actually two gondolas; the newer one is faster, but the older one is uncovered and much more fun.
We were dropped off halfway up the mountain. It's possible to hike to the summit of Bà ?en, but this requires a couple more hours from the gondola station. Although the view must be fantastic, we decided to skip the hike in favor of exploring the four temples which are spread across the mountainside.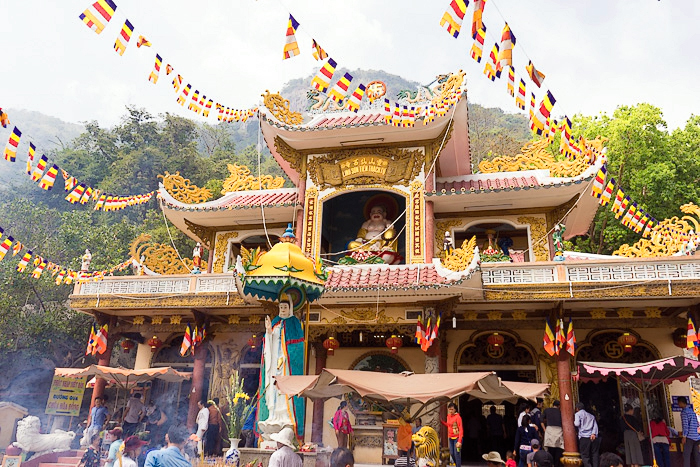 These were not silent, forgotten mountain temples lost in the jungle. Despite the fact that we were visiting on a weekday, the place was incredibly busy. We normally dislike a crowd, but here the festive atmosphere was fun. We decided to first check out the temple which was farthest away… and highest upon the mountain. After a short but grueling climb, we arrived at the Chùa Hang.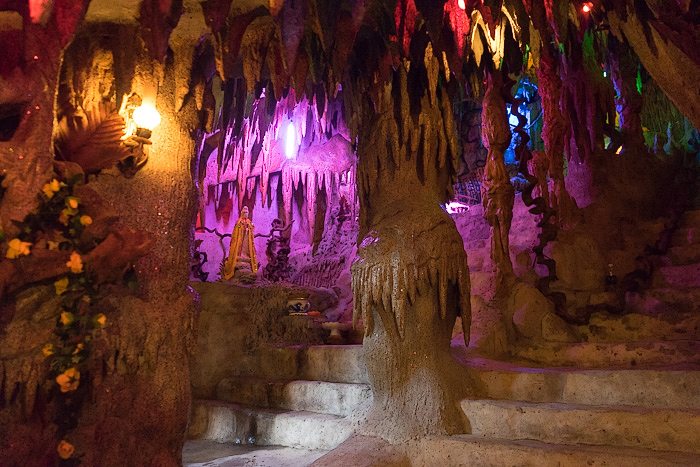 We sat down at the main alter to watch people pray and receive fortunes, and eventually noticed that, after standing back up, some of these people would seem to disappear into the mountain. Following one guy, we discovered a narrow crack in the wall. We wedged our way inside and were amazed to find a large cave temple, completely decorated in glowing lights.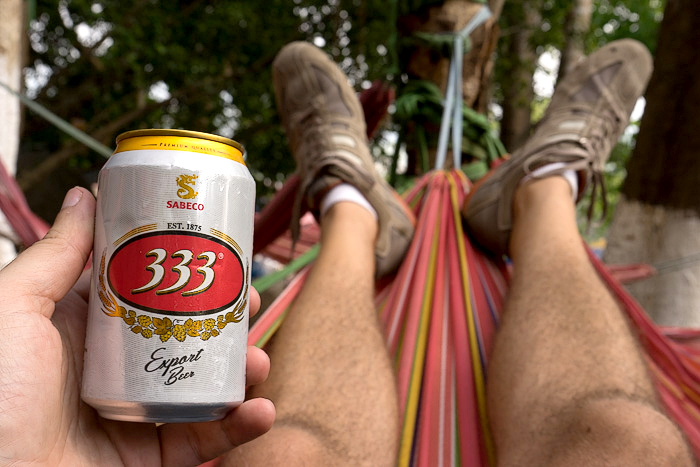 Each of the mountain's four temples was unique, and we needed a few hours to visit all of them. Of course, we took frequent breaks. Break #1: tamarind candy and water, watching monkeys. Break #2: coconut, under the shadow of a giant reclining Buddha. Break #3: beers, stretched out on hammocks on the mountainside. Yeah, we were satisfied about having passed on the hike to the summit.
The cave temple had been an exciting discovery, but the most exhilarating experience of the day came at the very end. To descend from the mountain, there are a few options. You can walk, take the gondola, or you can hop on a toboggan and blaze down the slideway. Of course, we had to go with option #3… how could we ever imagine that our first experience on a luge would be on a Vietnamese holy mountain?
There was just enough danger in the slideway to make it fun; the breaking system was easy to master, but it wouldn't have been difficult to careen off the track entirely. We started fast, and went even faster as our confidence grew… until we ran up on a couple who were busy taking luge-selfies and were not going to be rushed. We lined up behind them with ten other frustrated toboggans, and coasted like molasses to the bottom.
We almost decided to go back up in the gondola, just so we could experience the luge properly, but it was already getting late, and we had to hurry back to Tây Ninh for the 6pm service at the Cao ?ài temple…
Location of Núi Bà ?en on our Map