The Cable Car to Thiền Viện Trúc Lâm
A long cable car connects the lake of H? Tuy?n Lâm to the city of Dalat, dropping people off at the foot of Thi?n Vi?n Trúc Lâm, a temple that sits atop a hill overlooking the water.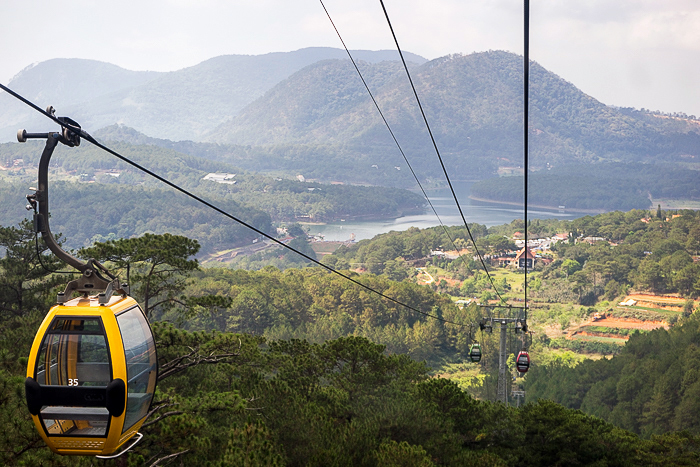 If there's a cable car within striking distance, you can bet that Jürgen and I will be taking a ride. Even though we weren't all that interested in visiting the temple, we couldn't resist soaring above the forests and hills which surround Dalat. And the ride was just as beautiful as we knew it would be.
The Thi?n Vi?n Trúc Lâm is also lovely, although somehow it didn't capture our imaginations the way other temples have. I'm not sure what was wrong… its location high above sparkling H? Tuy?n Lâm Lake couldn't be more perfect, and the grounds of the temple, replete in flower gardens and small pagodas, were picturesque. It might have been the tour groups, or the relative newness of the buildings. Or perhaps a little "temple fatigue" is starting to set in, after six weeks in Vietnam.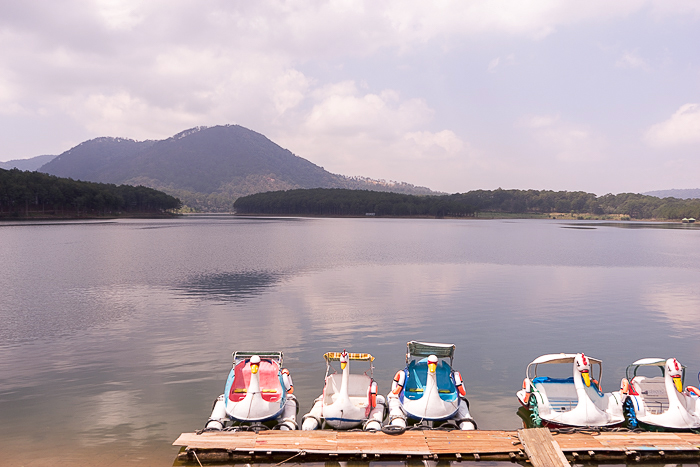 We made our way down to the lake. Being so close to the leisure town of Dalat, it was unsurprising to learn that H? Tuy?n Lâm has become popular with large resorts. We walked up and down the shore for about a half hour, fending off sellers of junk souvenirs, until we'd had enough. Surrounded by forests and capped by the clear blue mountain sky, the lake is gorgeous, but it's being developed in the wrong way.
Locations: Thi?n Vi?n Trúc Lâm | Dalat Cable Car Station