Saigon, officially known as Ho Chi Minh City, will be our home for the next three months. This sprawling and rapidly-developing metropolis has a population of eight million people, making it the largest city in Vietnam. For 91 days, Jürgen and I will be seeing its sights, eating its street food, meeting its locals, and immersing ourselves in its culture. And although we can't wait to get going on all of that, first we'll have to figure out how to cross its streets.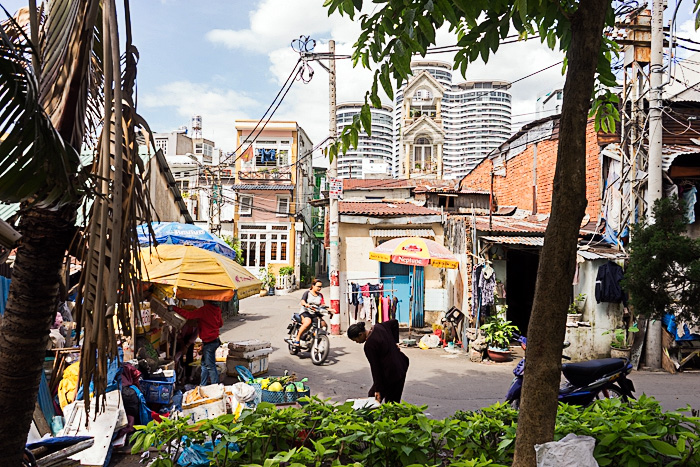 Although I'm familiar with the name, Saigon is a city about which I'm almost entirely clueless. And that goes for Vietnam in general. I know about ph?, and that the capital is Hanoi, but that's it! Okay, I have heard of the Vietnam War, but as an American, that's a topic I've been taught to avoid, changing the topic as soon as possible, because what should we talk about war atrocities for… Did you say ph?? Yeah, Vietnam's cuisine is great, let's talk about that!
No, I know that America's legacy in Vietnam is something which I'll have to confront. But there's so much more to explore. This country is bigger than I had assumed; it's the world's fourteenth most-populous nation, with a north-to-south length of 1025 miles (about Miami to Washington DC). So, although we'd love to see all of it, that wouldn't mesh with our style of travel. Instead, we're going to save the north for a later trip, and concentrate on "just" the south. Just half of a giant country.
Saigon, the Mekong Delta, islands like Phú Qu?c and Côn S?n, Dalat, the beaches of Nha Trang and V?ng Tàu, B?n Tre and Can Tho. If at all possible, we'll make it to the middle of the country, for Hue and Hoi An. Now that I've actually typed all that out, it feels like way too much to accomplish in 91 days. Well, we'll do as much as we possibly can. And I have a feeling we'll enjoy every bit of it.
If you're Vietnamese or have spent time here, we'd love to get your tips and suggestions! Please leave a comment or get in touch. As always, we're starting out as complete beginners. By the end of our 91 days, we'll know much more about Saigon… but for now, every bit of advice will help!
---
Saigon or Ho Chi Minh City? Before arriving, we had planned on calling this blog "Ho Chi Minh City For 91 Days", although we liked "Saigon" better. After all, Ho Chi Minh is the official name, and has been for over forty years. There's something irritating about Westerners who insist on using colonial-era names ("Peking" vs. "Beijing", as a prime example). But after arriving, our qualms disappeared. Everyone here calls the place Saigon, from the locals to the shops to the hotels. It might change eventually, but for the time being, this city still feels like Saigon… so that's what we'll call it.