A Day at the Suối Tiên Theme Park
One look at the pictures of Saigon's bizarre theme parks, and we knew we'd be visiting at least one. After careful deliberation, we selected Su?i Tiên. Not only did this quasi-religious park look genuinely entertaining, but it seemed delightfully unaware of its own kitschiness. A day of ironic fun awaits… let's go!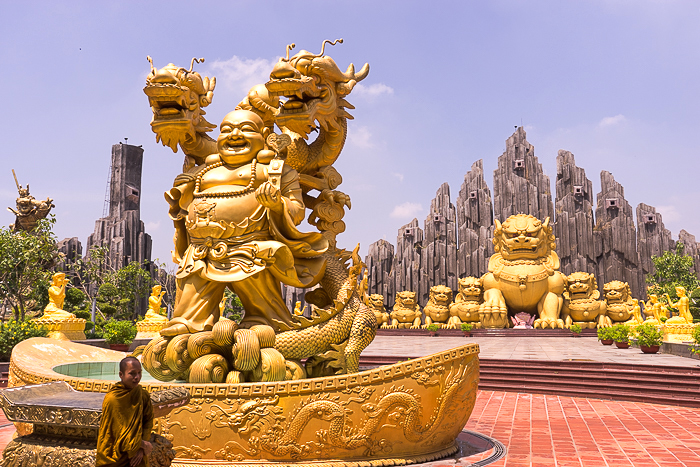 Su?i Tiên was as bizarre as we had hoped. This is a theme park with actual temples, and people actually praying in them. And then there were haunted houses which looked like temples. There were giant statues of Buddha, looking benevolently over attractions like "CROCODILE WORLD!". There was a Ferris wheel, a golden Bodhisattva, a roller coaster, a wishing tree, a massive dragon, and a zipline.
Oh, we were in heaven! Check out the names of some of the attractions, none of which I'd even be capable of inventing. The Kingdom of Future Geniuses. Fairy Phoenix Palace. God of Soil Temple. The Holyland of Fairy Bird. Teratology and Abnormal Objects. Mystical Fish-Dragon Pond. Mystery of Witch Forest. Strong Feeling Rides Area (*NEW*). Rotation of the Universe Ride. Rotation of the universe? Su?i Tiên doesn't mess around!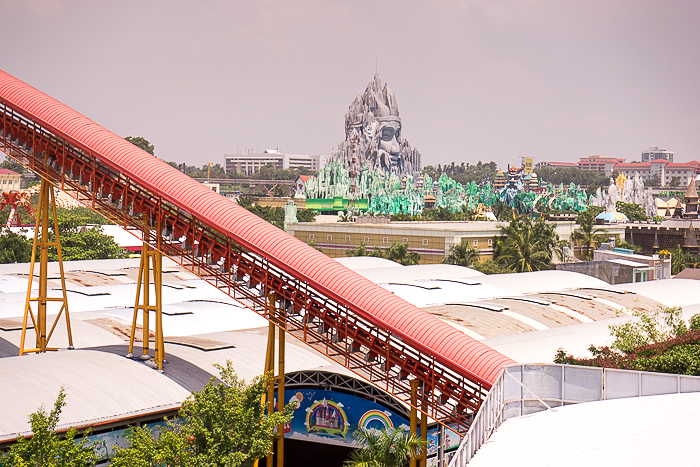 Sadly, we weren't able to sample everything the park had to offer. Su?i Tiên only costs about $5 to enter, but every attraction has an additional fee, and these accumulate quickly. By the end of the day, we'd only experienced a fraction of the park's amusements, but there was no way were we dropping more than $20 apiece.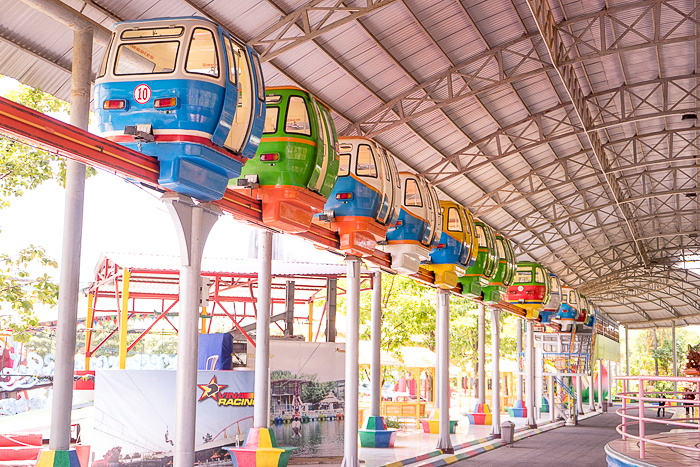 My favorite ride was probably "Magic Castle", based on the world of Harry Potter. Loosely-based, ahem, because it's safe to assume that Su?i Tiên didn't acquire the rights to J.K. Rowling's creation… nor had they bothered to read the books before constructing this haunted house. There are names randomly posted throughout the castle ("Dumbledore!", "Quidditch!", "The Oder [sic] of the Phoenix!"), but that's as far as the connection goes.
Not that this wasn't a good haunted house! While I was stumbling around in the dark, a menacing voice behind me whispered, "I … will… killlll you!". It was more terrifying than any genuine Harry Potter experience could ever hope to be.
By far the most popular section of Su?i Tiên is its water park, the Holyland of Fairy Bird, which manages to be even more outrageous than its name. A gigantic mountain wall, into which the face of an ancient king has been carved, provides the backdrop to a collection of pools, slides, and watery fun.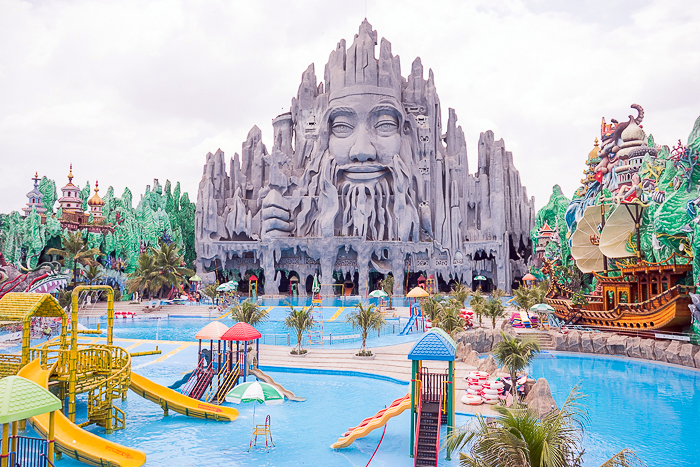 We floated in the wave pool, and tried out the slides, and then I saw a group of teenagers running across a set of floating lily pads, like something out of American Ninja Warrior. Feeling spry, I took a turn… and immediately came crashing down on the second lily pad, injuring myself in the process. That put an end to our day of fun and, as I hobbled out of the pool, I felt the gaze of giant stone king on me. Perhaps Su?i Tiên had overheard the laughs we were having at its expense. Perhaps this was its revenge.
-The most important Vietnam advice: Sign up for travel insurance