If you find yourself in District 7 around sunset, you might want to head over to the Starlight Bridge in front of the Crescent Mall. As the sky turns dark, this pedestrian bridge is illuminated with a colorful water show.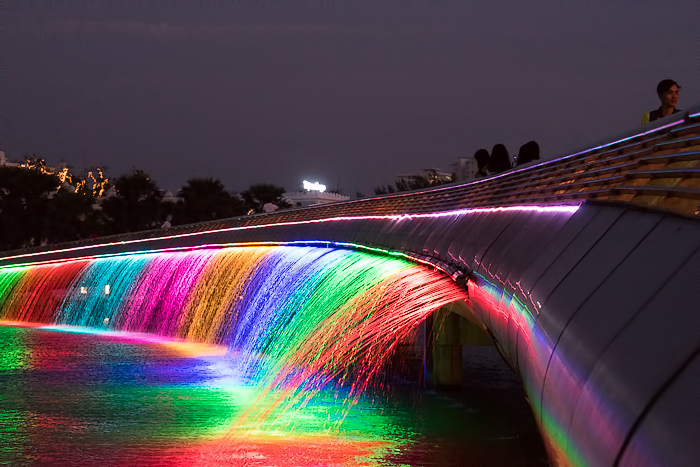 Unless you're really into bridges, it's hard to recommend a specific trip to this area of town. The nearby Crescent Mall is fancy and clean, with shops like the Gap, Aldo and Kentucky Fried Chicken. Sigh… just like home. And outside, the atmosphere isn't much different. This is very much a new-money area in Saigon, and they've built themselves a western copycat neighborhood in which to live. We might as well have been actors hired to walk around and make the place even more authentically American.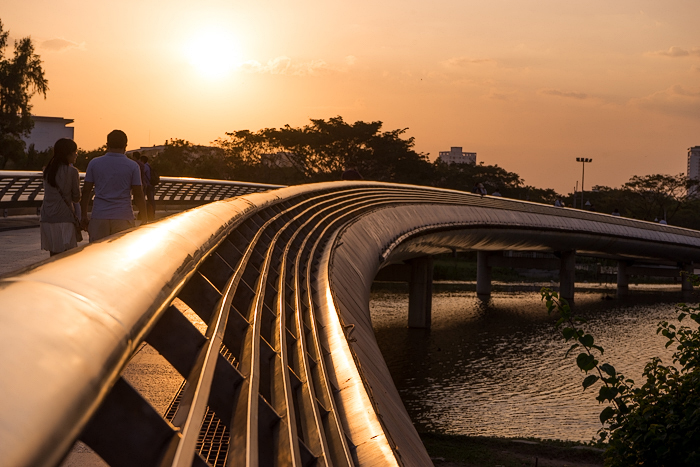 But as much as we disliked the mall and the perfectly-manicured park in front of it, we had come for the Starlight Bridge. Jürgen's a sucker for weird architecture like this and sometimes I just have to grit my teeth and tag along on his wacky adventures.
Around dusk, the steps in front of the bridge become a popular hang-out spot for young couples and families. Once the lights and colorful water spouts turn on, the bridge is quite pretty. And it's interesting to see a different side of Saigon… even if it's not the side which we've fallen in love with.