When I heard people talking about Dalat's "Crazy House", I wasn't entirely convinced. I assumed it was going to be like some clown who promises "craziness" at your kid's birthday party, but then he's actually kind of normal. And while you're glad that he didn't kill anyone, part of you is disappointed that his definition of "crazy" was balloon animals.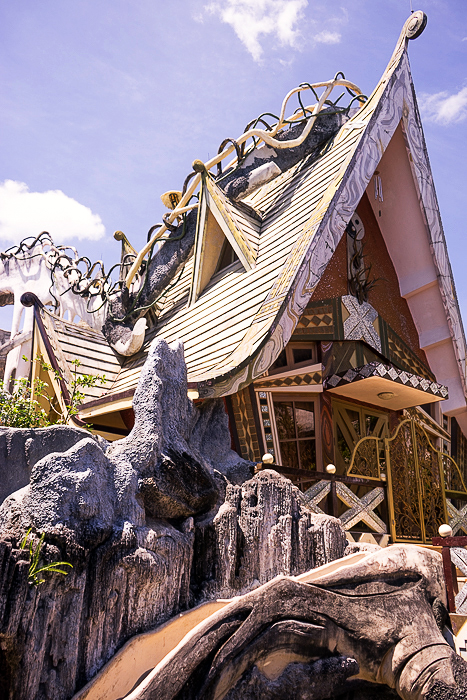 So I was surprised when the Crazy House actually lived up to its name. This was, in fact, the craziest house I've ever been in. Its architecture looked like it was designed by a joint committee of Gaudi, Dali, a four-year-old, and a hive of life-size, talking termites. Among the things you expect to find in the summer resort town of Vietnam's central highlands, is not a building like the Crazy House.
Conceived by Vietnamese architect ??ng Vi?t Nga, the Crazy House opened in 1990 as a guest house. Her creation immediately made a splash on the architectural scene, with its cave-like rooms and organic tree-like passageways (mostly) drawing praise. Throughout its life, the H?ng Nga (as it's officially known) has undergone continuous renovations and expansions; a new aquatic-themed room was being crafted during our visit.
At first, I thought the architecture kind of silly. But halfway through our visit, I found myself wondering why all houses aren't built this way. Is it really "crazy" to have a staircase running over the roof? I mean, why not? Let's think about this! Human architecture might adhere to rigid, straight lines, but consider the architecture of nature. A hallway that curves and branches around obstacles like a root makes sense. It's us that's crazy, with our right angles and stackable block-houses!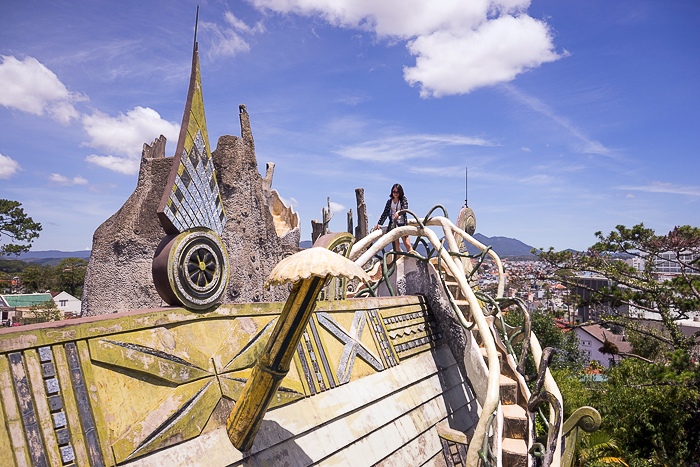 Throughout our stay in Dalat, we were shocked by how empty some of the main sights were, considering the relatively high number of tourists in town. But that's because everyone and their mothers are at the Crazy House. This place is wildly popular and constantly packed with visitors. Somehow, though, the crowds just add to the weirdness of the place. Why are we waiting in a long, single-file line to ascend these stairs that clearly lead nowhere? Have we all gone completely… totally…
–Download our Travel Book here!