The Sights of Saigon's District 3, Ward 7
On a whim, we decided to check out District 3's seventh ward, and uncover its secrets. Because, it must have secrets… I doubt there's a neighborhood in this city which isn't hiding something of interest. And Ph??ng 7, Qu?n 3 did not disappoint.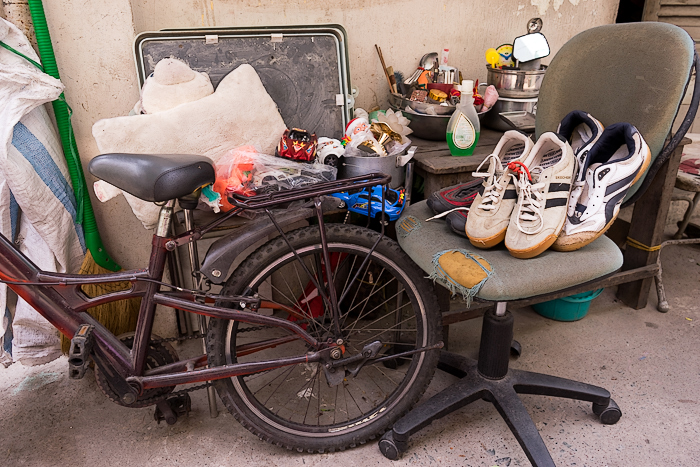 A word about Ho Chi Minh City's urban layout. The city is divided into nineteen districts, or "Qu?n". Most are named with a number: Quan 1, Quan 2 and so on, up to Quan 12. Then, there are seven districts which have other names. Strict attention is necessary! After all, you wouldn't want to confuse Quan Bình Th?nh with Quan Bình Tân or Quan Tân Bình, let alone the market of B?n Thành. To add to the headache, these districts aren't arranged in any logical order. Just take a look at the map.
Now begins the real fun: each quan is divided into wards, or "ph??ng". Haphazard numbering systems apply to these as well. The quan in which we live has 20 phuong… numbered 1 through 28. Yeah, figure that out.
And each of these phuong are huge! We could pick one at random, and surely find interesting things to do and see. That's actually not a bad idea. Let's put them into a hat, and see what comes up…
"Phuong 7, District 3". Alright, what you got?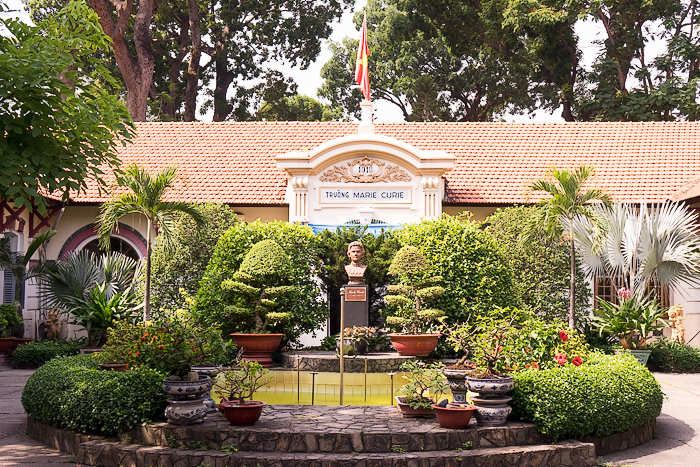 Our motor-taxis dropped us off at P7D3's first building of interest: the Marie Curie School. Built in 1918 by the French and named for the famous scientist, this school has always been one of the largest in the country. Today, it's been made public, and teaches both boys and girls. During the lunch break, we were allowed to enter the school, and take a peek into the classrooms. We also got to see how Vietnamese high-schoolers enjoy their free time (much like Americans, it turns out: playing basketball or sneaking off for a smoke).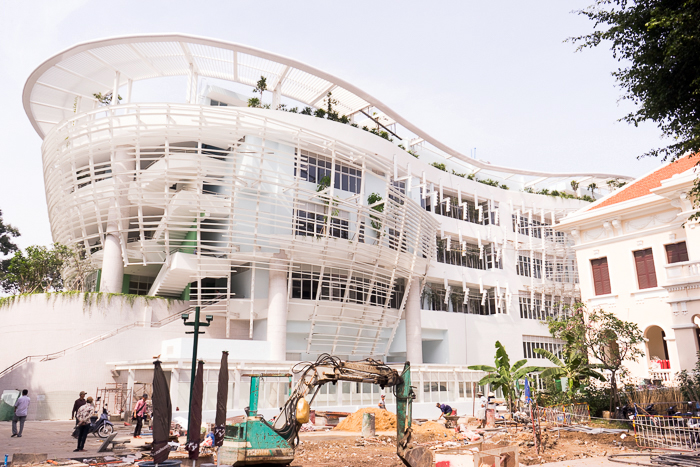 We now walked to the northeast, and encountered a bizarre piece of modern architecture in the finishing stages of construction, all white curves and terraces. It wouldn't have been out of place in our hometown's City of Arts and Sciences. We weren't able to figure out what this building is going to house… anyone have any ideas? Right in front of it, creating a fun architectural dissonance, is the classic Children's Cultural Hall, with its kindly statue of a seated Ho Chi Minh.
Continuing to the northeast, we came upon the Museum of the Southern Vietnamese Woman and, next to it, the Tay Son Lacquer Factory. The next couple hours were spent visiting both, and we'll soon be writing about each individually.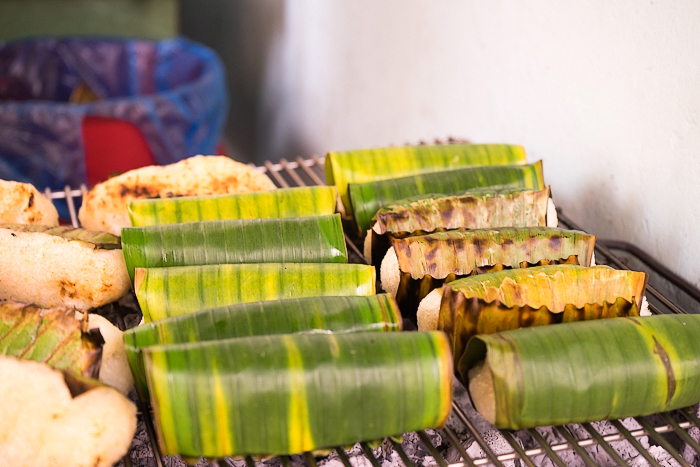 Further up the road, approaching the Nhieu Loc Canal, we got lost in a quiet residential neighborhood of tiny alleys and food stands. It was well past time for a break, anyway, so we sat down to enjoy a bowl of Bánh Chu?i N?p N??ng: fried banana covered in sweet coconut sauce. While eating, we met an older woman who had a brilliant command of English, despite having never lived in America or England. We talked at length about the city; she fondly recalled details about pre-war Saigon, and lamented how much it's changed. I think it reassured her to hear that Jürgen and I think her city is still amazing.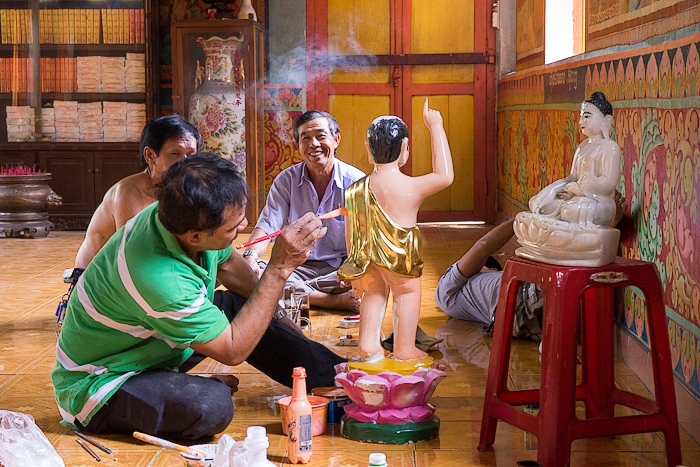 Across from the canal, we discovered the Cambodian (or Thai?) pagoda of Wat Chantaransay. This was a beautiful, quiet temple, where the only people were a crew of painters restoring statues, and orange-robed Buddhist monks. Ah, and an ancient woman, sitting so inert and inconspicuous in a corner of the garden, that when she suddenly said "Xin chao", I almost screamed.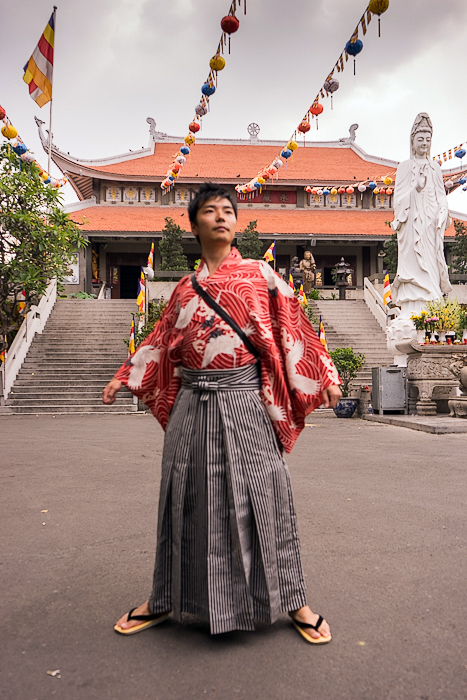 We moved east along the canal, until hitting one of Saigon's biggest temples, the Chùa V?nh Nghiêm, built totally in concrete. Inside the worship hall, there's a gigantic golden Buddha looking out over his courtyard. The temple dates from 1964, but has clearly been recently renovated, and felt too "new" to really capture our interest.
Or maybe we were just exhausted, and ready to be finished with Phuong 7, District 3. But this had been a great excursion, proving that you don't need a grand itinerary of touristy sights to have an unforgettable day in Saigon. Just head out into a new neighborhood; I have the feelign that any neighborhood will do.
-Looking for Short / Longer Term Rentals in Saigon? Check out BonBon Residences
Locations on our Map: Marie Curie School | Weird Terrace Building | Museum of the Southern Vietnamese Woman | Quiet Residential Alleys | Wat Chantaransay | Chùa V?nh Nghiêm