Saigon Street Food Journal #2
As we knew it would, eating has become a major highlight of our time in Saigon. We've been sticking almost entirely to street food, and have loved just about every dish we've had. Here's another selection of some of our favorites.
Journal #1 | Journal #3 |

href='https://saigon.for91days.com/saigon-street-food-journal-4/'>Journal #4

| Journal #5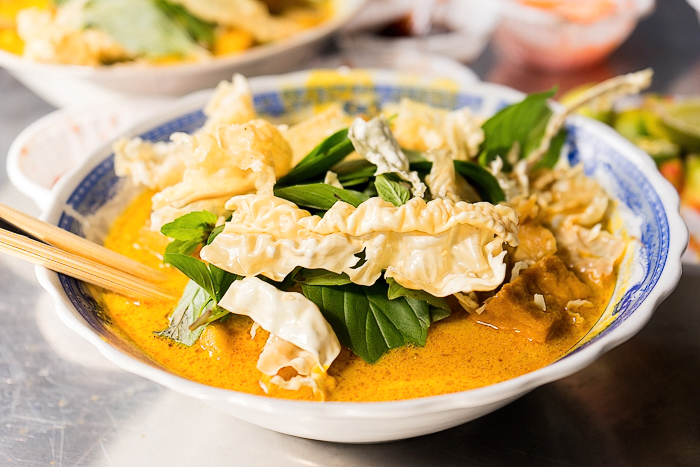 Meat is a staple in the Vietnamese diet, but vegetarians won't find it impossible to eat well in Saigon. The word to keep your eye out for is "Chay", which means "vegetarian". And "Cà Ri" is the Vietnamese transliteration of its English counterpart: curry. This vegetarian curry was a welcome break from our usual carnivorous diet.
Location: We tried this at a vegetarian restaurant in Tay Ninh, near the Grand Temple. It's a safe bet that you'll find veggie places around any Cao Dai temple — the followers of this religion are vegetarian.
Upon approaching the street food stand in District 10, the guy working was so eager for our business, that we walked away. We've learned to mistrust anyone who's too happy to see us. But after a block, we turned around; those tightly-wrapped rolls of rice vermicelli, served in rich broth with a generous portion of pork, were too good to pass up. The guy turned out to be genuinely nice, just a little hyper, and his meal was absolutely delicious.
Location: We found these at a small shop in Phuong 12, District 10.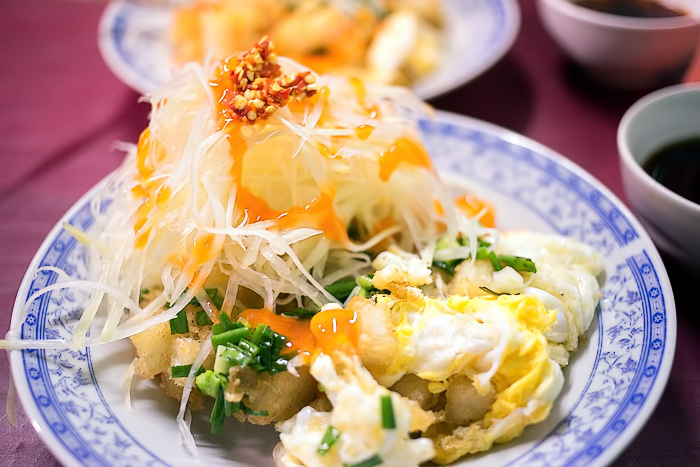 Despite eating out for every single meal, and often ordering double portions, we've both been dropping weight. But that trend won't continue if we order much more b?t chiên. Because it's just fried dough. Usually served with eggs, it's as delicious as it sounds, but isn't the healthiest dish in Vietnamese cuisine.
Location: We tried this first at a little shop in the Bình Th?nh district.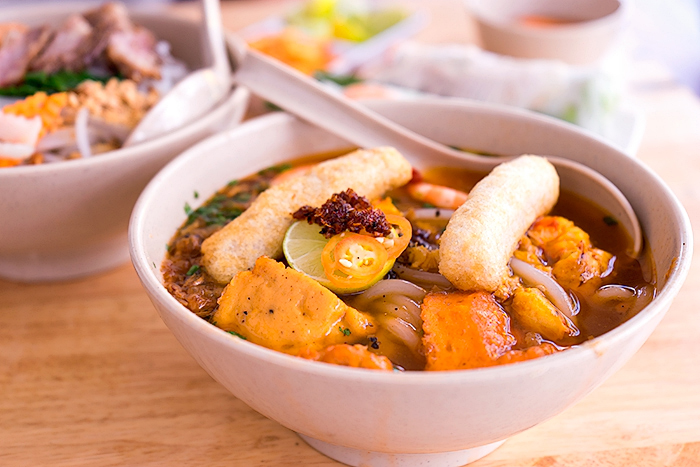 Bánh Canh are thick, slurpy noodles made of tapioca, almost identical in size and texture to Japanese udon. And "cua" means "crab". So, Bánh Canh Cua is a rich, delicious crab noodle soup. Ours was served with shrimp in a slightly tangy, sour sauce. For $1.50! I'll never get over the cost of food in Vietnam.
Location: A popular restaurant in District 3 called Tân H??ng Nam serves up great Bánh Canh Cua.
About 80% of our meals seem to be soup-based. Even if we're ordering something Google translates as "meat pasta", more often than not, it will come in soup. So we love finding meals like Bún Th?t N??ng, which is dry, cold vermicelli noodles served with grilled pork. Topped with veggies and fish sauce, this is delicious.
Location: We first tasted this at this little shop near the Presidential Palace. Another great spot is in District Binh Thanh.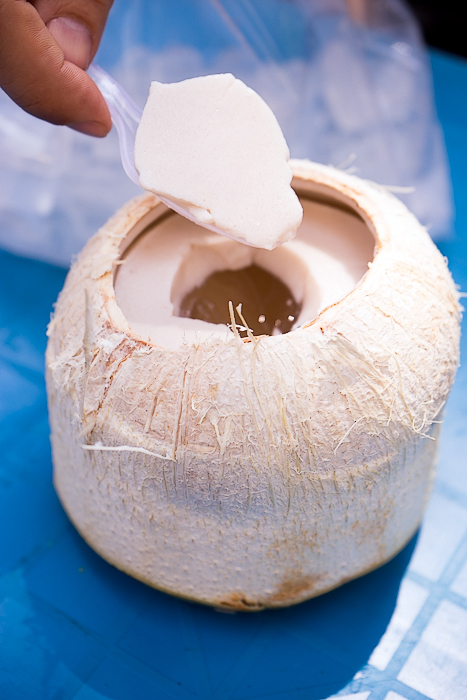 Coconut is a major dietary staple in Vietnam, and comes served in a variety of ways. We usually just sip out the water with a straw; it's cheap and incredibly replenishing, like nature's own sports drink. But we couldn't resist the first time we saw Rau Câu Trái D?a. The coconut has its water mixed with agar agar gelatin, and is then chilled, creating a delicious dessert.
Location: This little alley near the zoo has a ton street food vendors, and is very popular during lunch time. It's where we first tried Rau Câu Trái D?a.
– Vietnamese Cookbook / Buy Vermicelli Noodles Online