Saigon Street Food Journal #5
Here's our final compilation of our favorite Saigon street food. This is the kind of chow which makes us smack our lips, smack smack smack. The kind that makes us chew with our mouths wide open, so that we can smack as loud as possible! The kind which sticks in our tooth gaps, so that after our meal, we sit around with a toothpick for 30 minutes, picking and sucking our teeth… wait a second… have we gone native?
Journal #1 | Journal #2 | Journal #3 |

href='https://saigon.for91days.com/saigon-street-food-journal-4/'>Journal #4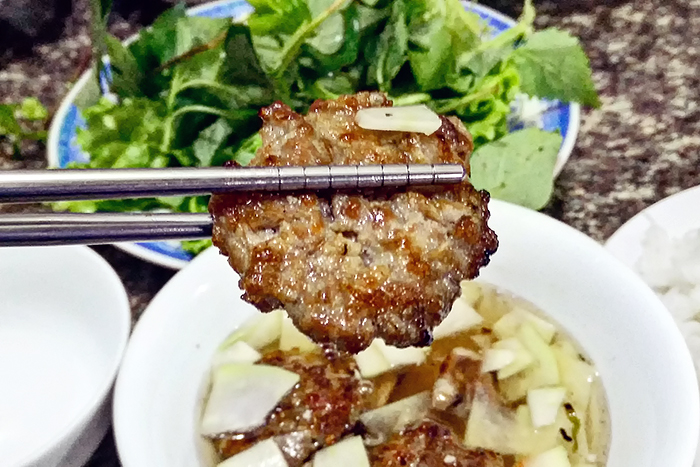 It often happens in Vietnam, that you're looking at a dish, not sure what the colloidal mass floating in the bowl might be. Meat? Fish? Tofu? But no such guesswork is necessary with Bún Ch?. Them's little hamburgers, and them's going in my mouth! Actually, they're first going into my soup, because the Vietnamese put everything in soup and hamburgers are no exception. Once we've fished them out, and combined them with a leaf or vermicelli noodles, then them's can go in my mouth.
This restaurant near our apartment served up great Bún Ch? in a comfortable setting.
Nem N??ng are pork meatballs flavored with fresh herbs, grilled on a bamboo stick, served with rice or noodles, and rolled up in rice paper. And they're exactly as delicious as they sound. These meat sticks are a specialty of Can Tho, which is we first tried them, but they can be found all over Saigon, as well.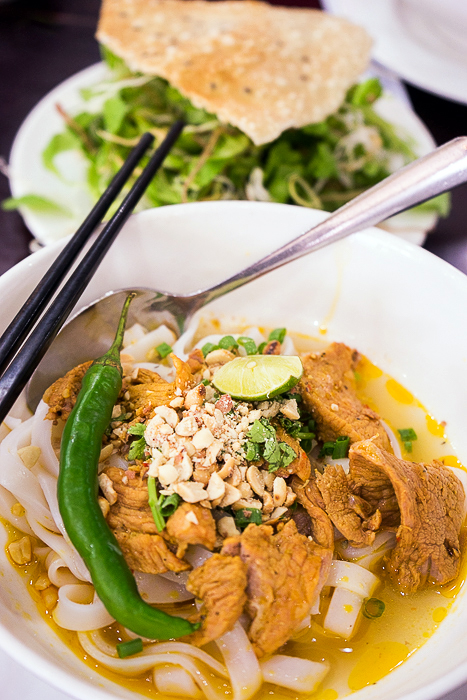 A few months ago, if you'd put a bowl of Vietnamese noodles in front of me, I would have said, "that's a bowl of noodles". But now, I would spot the pieces of bánh tráng (rice paper) and chopped peanuts, and confidently say, "that is mì qu?ng". A bowl of noodles, I'm learning, isn't just a bowl of noodles. The variations are endless, and each shall be named.
This dish comes from Hoi An, but here's a great Mì Qu?ng restaurant in Saigon.
Our first experience with the betel leaf was in Sadec, where we unwittingly ingested the raw leaf, only later learning about its psychoactive properties. So, I was a little skeptical about ordering bò lá lôt, which is beef wrapped in betel. But perhaps the grilling removes the stimulants, because after consuming three plates full, the only thing we felt was slothful contentment.
This dish is served with rice paper with greens, and you make your own little spring rolls. Quality can very a lot, depending on the establishment; the first time we tried it, we both got sick. For a safe option, try out this little shop.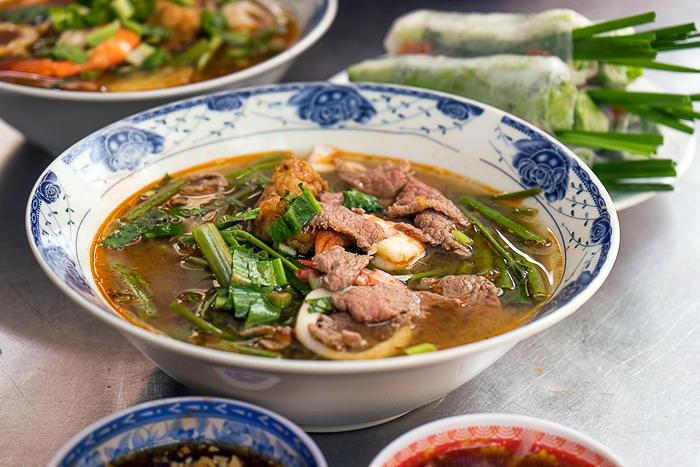 We've been surprised by the lack of Thai restaurants in Saigon. Japanese and Korean joints are ubiquitous, but Thailand is underrepresented, considering the country's proximity and the deliciousness of its cuisine. But while you won't find many Thai restaurants, you will often see Thai dishes on otherwise Vietnamese menus. For instance, Bún Thái is basically the famous Thai dish "Tom Yum": a brown, sour soup served with shrimp or fish.
We enjoyed the Bún Thái at this restaurant in District 3.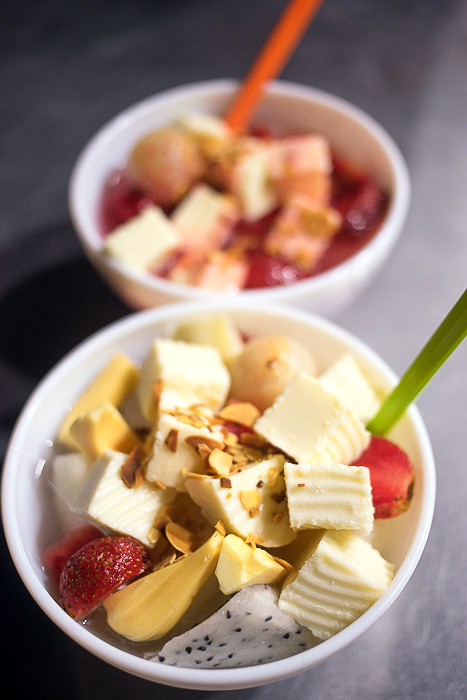 Chunks of fruit, such as strawberries, lychee, dragonfruit, and watermelon, floating with cubes of panna cotta in a chilly bowl of sweet, viscous, rosewater-tinged liquid, Khúc B?ch is unlike any dessert I've ever had. Or rather, it's like many desserts I've had, but all at the same time. Around the corner from our apartment was a shop that has a lot of variations; you can get it with just strawberries, for example. But I like most Trái Cây, the fruit cocktail version.
Khúc B?ch isn't so easy to find, but the shop in our neighborhood is popular, and packed every night of the week.