The Tiger Cave Falls in Dalat
At the end of a perilous dirt track to the east of Dalat, the Tiger Cave Falls seem to have fallen off the city's tourism radar. During our visit, there was nobody else there… and we got the feeling that it's been that way for a very long time.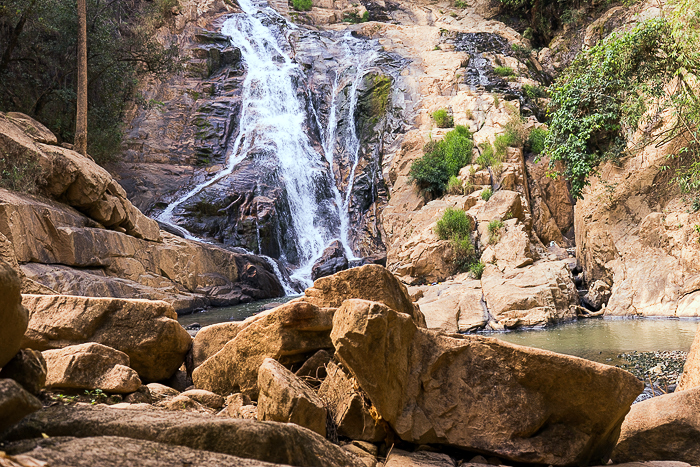 Arriving at the Tiger Cave Falls was an adventure in itself. We were on a motorbike, but after passing the town of Tr?i Mát (and its incredible mosaic temple), the pavement disappeared and the track became progressively worse. A number of times, I had to dismount and walk alongside as Jürgen negotiated the potholes. The path was at least downhill, but eventually the road got so bad that we decided to park and walk the rest of the way.
Luckily, we didn't have far to go. After about ten minutes, we could hear the roar of water crashing, and entered a decommissioned ghost-park. Evidently, Tiger Cave Falls once fostered big dreams. There were large statues of a tiger and an eagle, now crumbling, and a hall which might have been a restaurant.
We found a set of stairs leading to the falls and started down, excited about exploring this abandoned park. Suddenly, some meters behind us, a woman yelled, scaring us so badly that we nearly tumbled down the stairs. Apparently, this park hasn't quite given up, after all; there's still someone collecting an entrance fee. Fine, here's your 80 cents or whatever, and by the way, nice timing!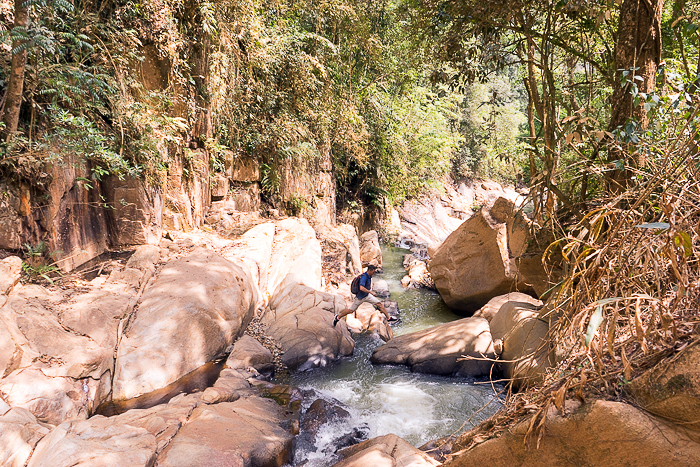 Hearts properly racing, we proceeded to the falls. Tiger Cave is not a thunderous cascade which comes crashing down a precipitous cliff, but more a multi-tiered run down a set of rocks. Not exhilarating, but quite beautiful, and you're able to hop from rock to rock at the waterfall's base to get different views. I'm assuming there must have been a tiger's cave around here, too, but who knows. It's not like there was any signage.
We found one perfectly-inclined, flat rock, and laid down. With the water rushing all around us, and a view of trees stretching up into the atmosphere, it was impossible to resist a nap. We deserved it, and we'd need the energy if we hoped to make it back uphill to our bike.
–We stayed at this Dalat Hotel and we loved it!