The Cường Hoàn Silk Factory
In the small town of Nam Ban, we visited the Cường Hoàn Factory to learn how silk is made, from worm to spool. This was a fun excursion, which tied in well with the nearby Elephant Falls.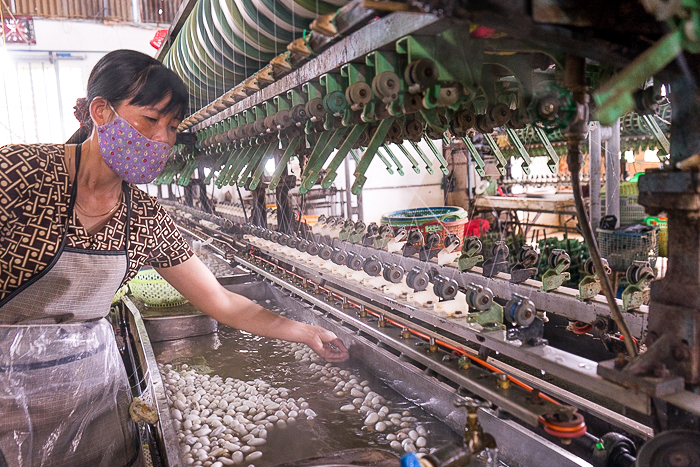 Dalat has a strange tourism scene; you'll spot plenty of Europeans and Americans on the streets, but many of the city's most impressive sights are totally devoid of them. We didn't see any foreigners at the Summer Palace, the King's Palace, or the Train Station. The same would hold true for the Embroidery Village and the Tiger Cave Falls, later during our trip. Visitors to Dalat seem to share a common itinerary: the Crazy House and canyoning are "bucket list"-worthy. Everything else, not so much. Two American girls we met in Dalat even asked us "when" (not "if") we were going canyoning. It was like… do we have to?
With Dalat's tourism concentrated on a few specific places, we were reasonably certain that we'd be all alone during our motorbike excursion to Nam Ban. Wrong! Turns out, the other experience shared by almost every foreign visitor to Dalat is an "Easy Rider" tour. And Nam Ban is squarely on the standard route.
A word about the Easy Riders, since this is a popular activity which we didn't do ourselves. Years ago, a group of English-speaking locals started offering long motorbike tours of the central highlands. Based in Dalat, they called themselves the Easy Riders, and would take tourists wherever they wanted to go, arranging food and lodging along the way. The concept proved phenomenonally popular, and multiple copycat operators sprung up around Dalat, all calling themselves the "Easy Riders" (with many claiming to be "The Originals").
Journeying from Dalat to your next destination, through the hills and forests of the highlands, on the back of a motorbike with a cool local guide must be an incredible experience. If we had been continuing on to Nha Trang instead of flying back to Saigon, we'd likely have booked a tour.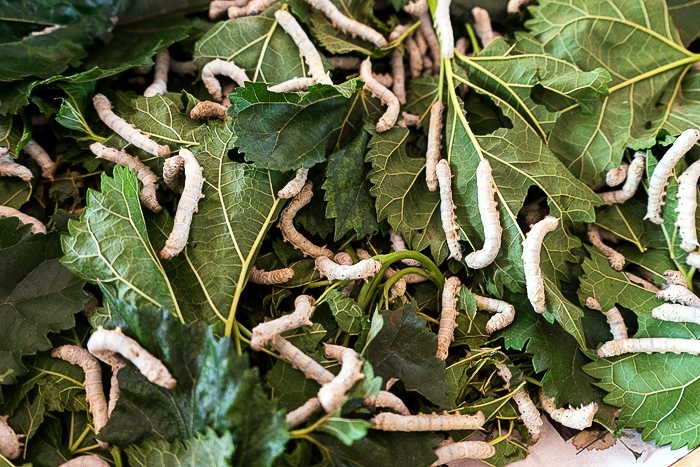 Back to the Cường Hoàn Silk Factory, which turned out to be a lot of fun despite the crazy number of Easy Riders present. We started our self-guided tour in a small room with baskets of ugly silk worms munching leaves, in preparation for cocooning. Then, we moved on into the factory itself, where a legion of women were boiling the cocoons and running them through a machine which unraveled the silk from them. The cocoons bobbed up and down in the pools of water, while spinning arms caught the threads and and pulled off their silk.
The unraveled silk is spun onto larger spools, at which point it's ready for the loom. They had a few machines here, spitting out fabric, although it wasn't on the same scale as the operation we had seen in Tan Chau. And as a final treat after all this sight-seeing, we had the chance to munch on one of the boiled silk worm larvae. Soooo delicious, who doesn't love the crunchy-squishy taste of stewed caterpillar?!