Adventure on Cồn Sơn Island
Apart from a few photos in a Can Tho tourism brochure, we couldn't find any information about little C?n S?n Island. But we decided to roll the dice, and visit anyway. If "Adventure" is comprised of equal parts "Challenge" and "Surprise", with a dash of "Terror" to spice things up, then our experience on C?n S?n definitely qualifies as an adventure.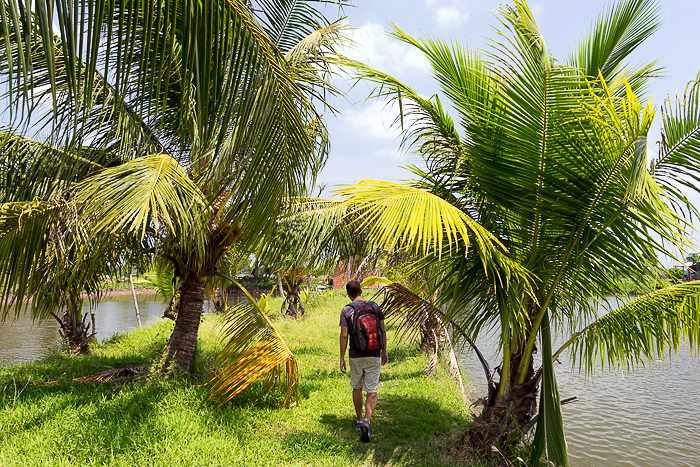 Like all good adventures, this one started with a challenge. As we were boarding the ferry to the island, a woman approached and said it was the wrong boat. We were confused, since the ferry clearly said "C?n S?n", but we followed her … and soon realized she wanted to put us on a tour boat. Nope, we'd had enough of "tour boats" after enduring a six-hour odyssey the day before. No thank you, ma'am, we'll stay on this big ferry with all the locals. Ma'am, we said no. No means no! Please stop grabbing us!
But she wouldn't give it up. Angered by our resistance, she tried to prevent the ticket guy from selling us ferry tickets. Then she went to the captain and tried to get us kicked off. (The captain, by the way, had welcomed us aboard with what were apparently the only three English phrases he knew: "Hello!" "How are you?" and "Fuck you", one right after the other, each said with the same grin.) Eventually, she had to relent… the boat was leaving, and we gave her a big, sarcastic, Titanic-worthy farewell as we set off.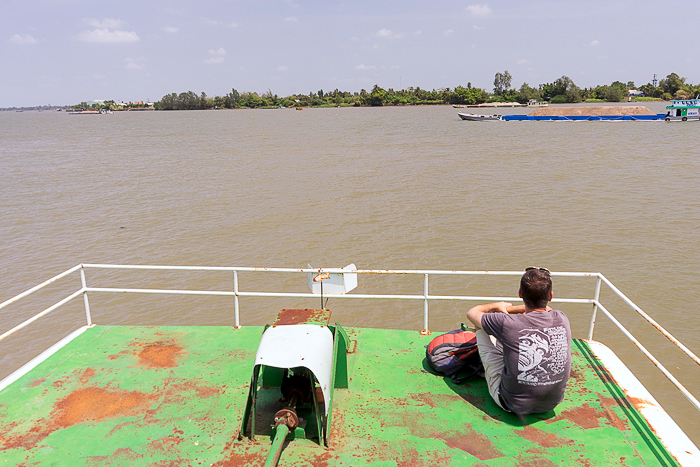 A few minutes later, we were standing on C?n S?n. We were the only ones who had disembarked the boat, which was a little weird, but whatever. Unsure of where to go, we started walking toward the center of the island. We passed a few fish farms, and eventually found a paved path that looked promising.
And then we heard the barking. Turning, we saw seven huge dogs chasing after us, closing the gap with horrifying speed. What do you do in this situation? One or two dogs, we might be able to fight off, but seven? I don't know. We kept walking, without running, hoping that they would stop. And thank god, they finally did. These were watch dogs for the fish farms, and not attack dogs. But they scared the life out of us, and suddenly we weren't having such a grand time on C?n S?n Island.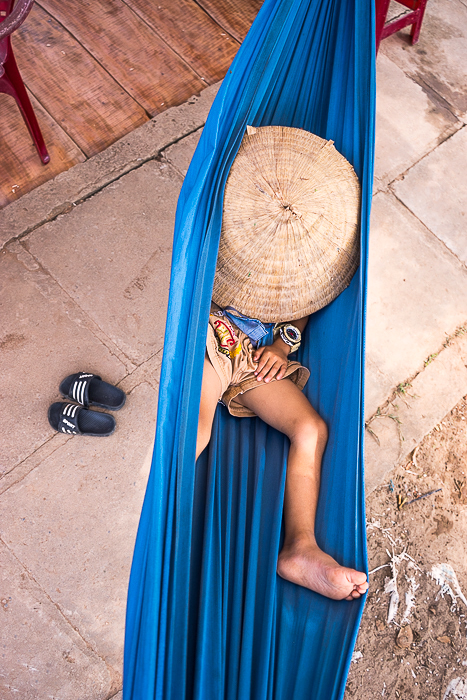 But things improved. The path we found turned out to be as nice as we had hoped. In fact, it had apparently been constructed for tourism. We even came upon a map near a small pier, advertising the island's cafes and sights. Our optimism strengthened with every step, and soon enough we had almost forgotten about nearly being mauled to death. Anyway, it was hard to stay upset when surrounded by C?n S?n's exquisite natural beauty.
Every few steps unveiled another charming shack with another wild garden, within which we could see palm trees and fruit trees, families waving at us and kids asleep in hammocks. Everywhere we looked, there was another gorgeous Mekong Delta scene, as though it had all been staged just for us. The path followed a small stream, and eventually ended at a cafe.
There, we were approached by a woman who wanted to help us enjoy the island. Still stinging from our experience with the Ferry Hag, we were cautious. But then again, wasn't it possible that the Ferry Hag had known about the guard dogs at the fish farms? Maybe she was so stubbornly insistent because she knew that a dangerous situation awaited at the other end! And now that we're thinking about it, the boat she had tried to put us on would've probably docked at the small pier near the Tourist Map, well within the island's "safe zone". Maybe she wasn't a Ferry Hag at all! Maybe she was… a Ferry Godmother!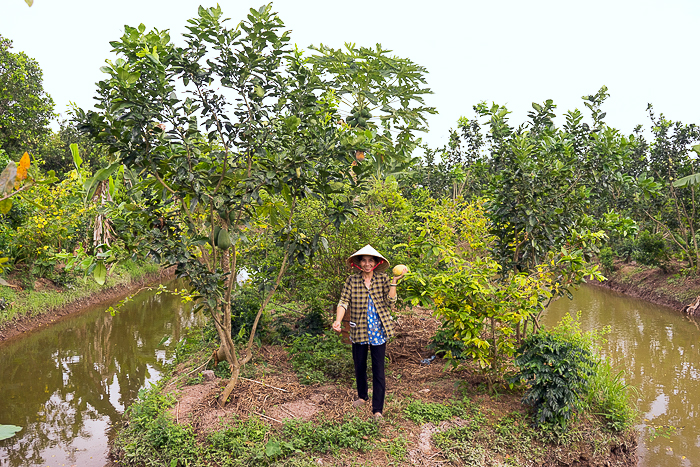 So, we decided to relax, and to see what this woman's friendliness might entail. She offered to help us arrange a ride back to the mainland, so that we could avoid the dogs. We accepted. Then she invited us into her home, and we accepted that, too. We met her husband and two kids, who gave us iced tea, and pointed to the hammocks. Jürgen got a tour of their garden, while I napped, and they all woke me up with a plate of home-grown papaya and banana. We then sat around and visited for about an hour. Language was difficult, but the daughter was proficient with Google Translate, so we had no real problems. And then they called a boat to take us home, even haggling down the price a little. And for all this hospitality, they didn't want a thing. It almost broke my heart when the daughter passed me her phone, so I could read, "We are so happy to meet visitors, we hope you enjoy our country".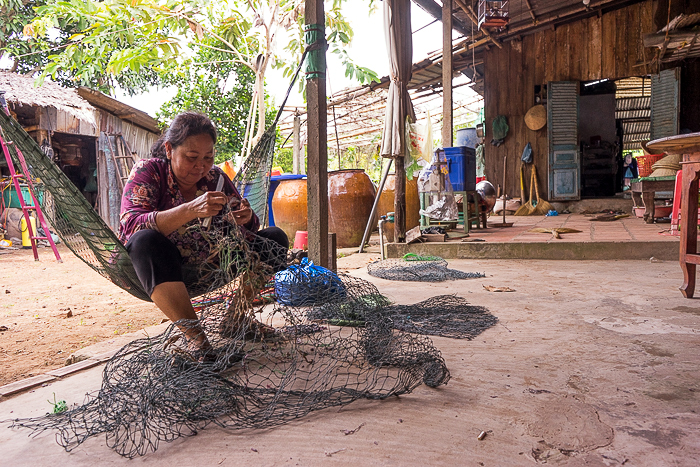 So, sure, there was a little danger during our visit to C?n S?n, but even that might have been avoided if we had hadn't been so dismissive of the ferry lady. Overall, this was an incredible day out, which we'll have a hard time forgetting.
If you want to visit C?n S?n, you might think about staying with the family which welcomed us so warmly. They have an extra room, which they rent out. This would be a truly authentic homestay in a super-unique setting… we would definitely have stayed, ourselves, if we had known about it in advance. Get in touch with us for contact details.
-We Highly Recommend To Sign Up For Travel Insurance Before Coming To Vietnam
Locations on our Map: Ferry Departure | Con Son Island