With over a million inhabitants, Can Tho is the unofficial capital of the Mekong Delta, and a major center of education and commerce. But despite the big-city status, it manages to maintain a slow pace and relaxed atmosphere. We spent four enjoyable days here.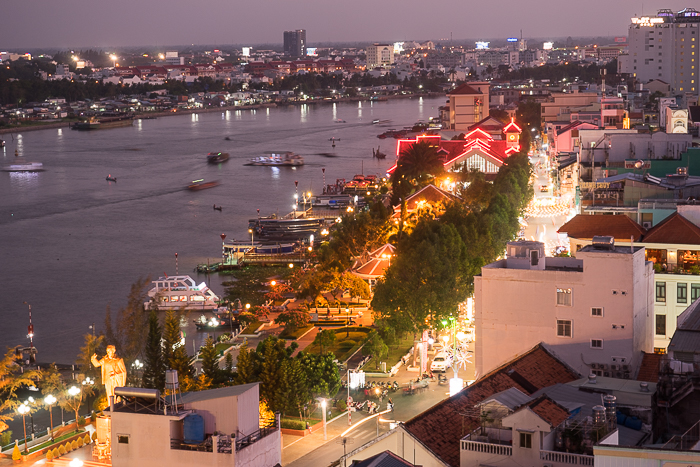 The bus ride from Saigon to Can Tho takes four hours. We booked tickets on a sleeper bus operated by FUTA, and arrived a few minutes after I had awoken from my second nap. These buses are great; the sleeper seats are comfortable and, after arriving at the bus station, FUTA puts you on a free shuttle to your hotel. Also, they're cheap. We paid about $4 per ticket.
After checking into our hotel, we set out to explore the city, and were won over almost immediately. The first thing we noticed was the lack of noise. Can Tho has none of Saigon's honking traffic or clogged streets. The city is like a fat guy who's just had a huge meal and is sprawled out on a mattress; comfortable, slothful and happy. Streets are wide, cars and even scooters drive at a lazy pace, and nobody seems in a hurry. Everything is stretched out and slow.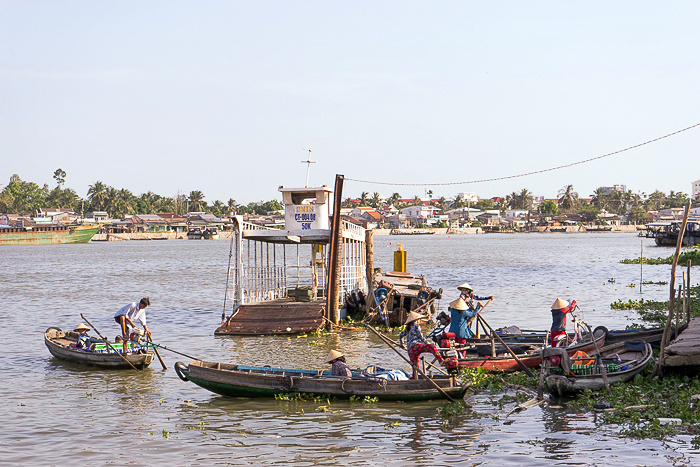 The Ninh Ki?u Pier seemed like a good place to begin our exploration of Can Tho. This is more or less the city's tourism nexus, with pleasure boats selling tours down the river and pretty views of the bridge which connects Can Tho to the mainland. The Can Tho Market is also found along the pier; no longer a regular market, this hall has become an upscale restaurant with tourist shops. Across from the market, we found a group of street food vendors. Even though we had just started our day, we decided to grab a Bánh Tráng N??ng (Vietnamese Pizza) and take a break in the shade. It seemed like a Can Tho type thing to do.
The city doesn't have a lot of major sights. There's an old colonial prison to explore, and a few interesting temples, such as the Jemer Pagoda of Munirangsyaram and the Chùa Ph?t H?c, located across the road from each other. The latter allows you to climb about five stories for a great view over the town. And there are orange-robed monks wandering around the Munirangsyaram, a few of whom were doing construction work during our visit.
These temples were cool, but they almost seemed like distractions from the main event: Can Tho, itself. We were done with our list of "things to see" in no time, and spent the rest of the day walking aimlessly about the city. At dusk we ended up at the artificial lake H? Xáng Th?i, which is filled with neon-lit figures from the zodiac and ringed by cafes.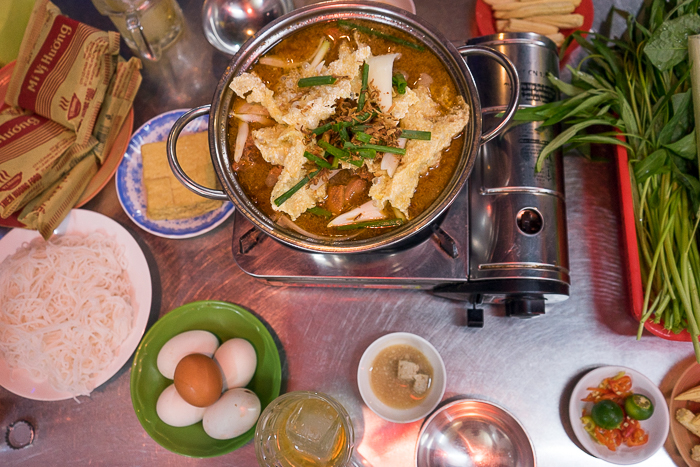 After watching the sun set, we went in search of dinner. Luckily, we didn't have to go far; close to the H? Xáng Th?i is the small, winding H?m 1, known locally as "Hotpot Alley", where restaurant after restaurant offers Can Tho's specialty: H?m Vit Nau Chao. The cuisine in Can Tho is well-known throughout Vietnam, and we loved this dish of duck and tofu, set in a boiling broth with vegetables.
Our next few days in Can Tho were busier, and we wouldn't get another chance to just waste hours goofing around in the city. So I'm glad we had that first day, and were able to enjoy the city's easy vibe at the pace it deserves.
Locations on our Map: Ninh Ki?u Pier | Jemer Pagoda of Munirangsyaram | Chùa Ph?t H?c | H? Xáng Th?i Lake | Hot Pot Alley