Can Tho's Ben Thuy House and Bui Huu Nghia Street
The colonial house of Ben Thuy looks like it hasn't changed a bit since the 19th century. After checking out the property and its garden of orchids, we walked toward the river along the entertaining street of Bui Huu Nghia.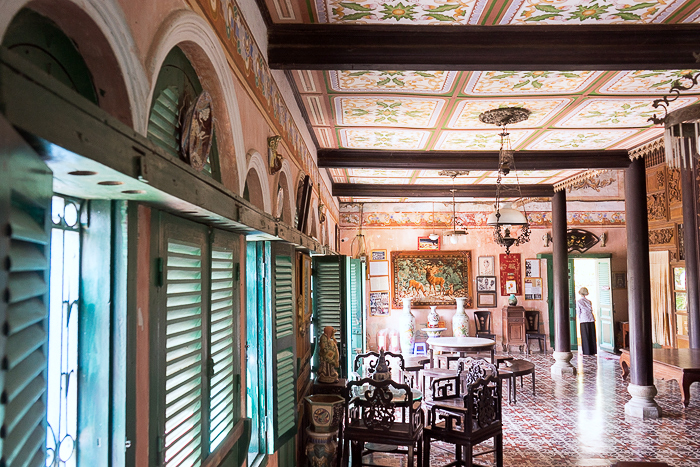 It's hard to imagine how Can Tho must have looked in 1870, when the house of Ben Thuy was originally built for Mr. Duong Minh Hien. This was just a few years after the French had conquered Cochinchina, but already the architecture was mixing European and Asian elements. The mansion is similar to the one in which we stayed in Sadec… the style seems to be typical of the Mekong Delta.
A visit to the house doesn't take long, but if you're lucky, you'll have the chance to meet Duong Minh Hien's granddaughter, who's now in charge of the estate. A quiet, friendly woman, she pointed out some pictures of her family, and let us take our time inside the mansion.
After taking our leave, we continued up Bui Huu Nghia Street, walking alongside the Binh Thuy River. We weren't expecting anything, but this street was a lot of fun. It seemed like everyone in the neighborhood was out and about, running errands, squatting outside their shop doors, chatting with friends, playing cards, or waving at the foreigners passing by. Along the way, we stopped in another colonial-era mansion, which has been gutted and remade into a cafe.
This wasn't an excursion into which we'd invested much hope. Our plan had been to proceed directly to the ferry for Con Son Island, and we only decided to check out the Ben Thuy House after seeing how close it was. And we definitely hadn't expected to be so charmed by the colorful local life of Bui Huu Nghia Street. If you have some extra time in Can Tho, this area worth a look.
–Great Places To Stay In Can Tho
Location on our Map: Ben Thuy House