After a couple days exploring Vinh Long and An Binh, we took a bus further inland until reaching Sadec, a small city in the Mekong Delta with a wonderfully tranquil pace.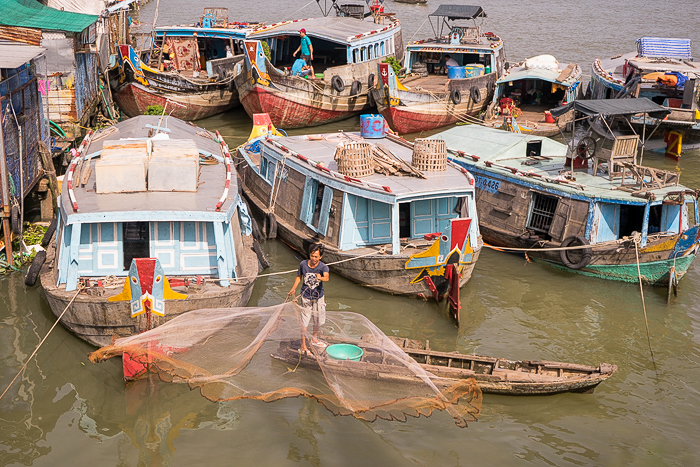 Sadec is home to a healthy population of 150,000 people, but feels like a village in comparison to Saigon or even Vinh Long. Everything is relaxed here, with wide streets you don't have to be a daredevil to cross, lush flower gardens, silent historic mansions, and a sleepy way of life. We loved it.
We arrived with a lot of energy and ran right out to see all of Sadec's sights. Turns out, there aren't that many. In fact, the town's main touristic draw also happened to be our hotel: the historic home of Huynh Thuy Le. No, we quickly realized that a visit to Sadec is more about slowing down, and allowing time to pass on by.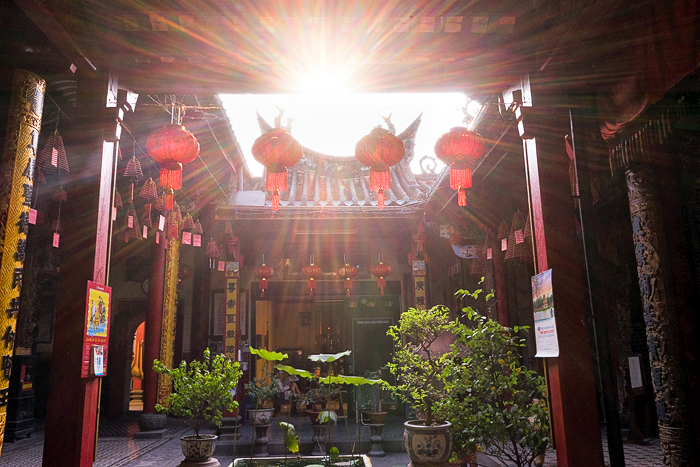 If you're really determined, there are a couple sights worth hunting down. Right around the corner from the Huynh Thuy Le House, along the Cái S?n Canal, is the gorgeous Chinese-style temple of Ki?n An Cung. There's a busy market next to the river, where, egged on by amused locals, we tried betel leaves (Tr?u Cau). Of course, we didn't know that you're not supposed to swallow them, nor that they have psychotropic properties.
Wait… I think I just figured out why we had so much fun in Sadec!
The food here is great, and not just if you're tripping on betel. Hu Tieu is a popular dish in Sadec, and we found a joint selling delicious bowls for ?6000 ($0.24) apiece. I couldn't believe it, and thought there must be some mistake. But that was the price. The name of the restaurant was even 6K Hu Tieu!
Another fun mini-excursion you can undertake is crossing the Song Tien on a ferry and exploring the small neighborhood on the other side. The views back into town are great, and it's a safe bet that not many tourists make it over here. At one point, we had an ill-tuned, unsynchronized chorus of six excited kids belting out the "Hellohowareyou" song. Music to our ears!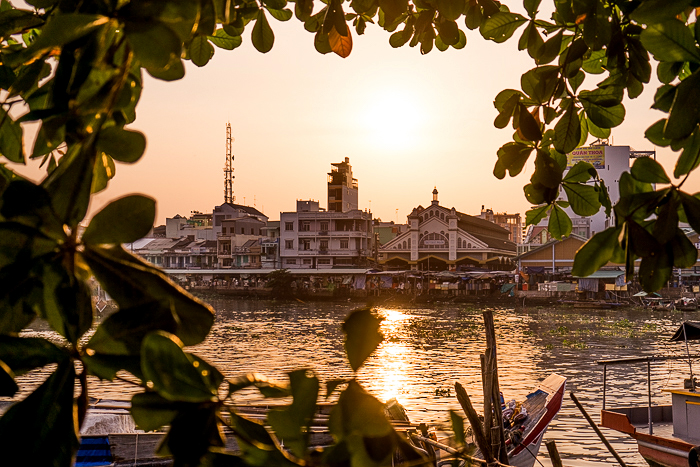 For dinner, we went to the Night Market and grabbed a table bordering the river. Sleepy Sadec wakes up after sundown, and the atmosphere here was buzzing. We chatted with locals while eating our shrimp and beef hotpot, and were entertained by a procession of mobile karaoke singers. It took us awhile to realize that these guys, who carry their speakers on bicycles, were actually selling products such as potato chips or cookies. After finishing a song, they'd walk around and try and get people to purchase their goods.
Two days was about the right amount of time to spend in Sadec. You certainly don't need more than a day to see everything the town offers, but to enjoy it properly, you shouldn't be in a rush.
Locations: Huynh Thuy Le House | Ki?n An Cung Temple | 6K Hu Tieu | Night Market