Ben Thanh Market and the Backpackers District
Located in the center of downtown, the Ben Thanh Market was built in 1912, though its origins date to the 17th century. Just to the west lays the "Backpackers District", offering up all manner of drinks and delights. Ben Thanh and the Backpacker's District are two of Saigon's most famous sights. We hated them both.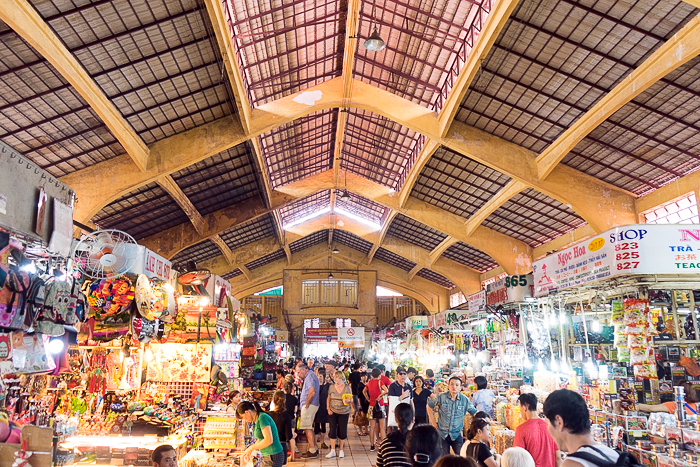 As long as Saigon has existed, there's been some sort of market around Ben Thanh. The French built a proper hall in 1859, and then remade it larger and grander in 1912. Today, you can find all sorts of things inside its walls: souvenirs, food, coffee, meats, clothes…
Oh yes, and annoyance! There's plenty of that, as well. The second you enter Ben Thanh, expect to be harassed, jostled, grabbed at and hawked to. The qualities which make Saigon's local markets such a joy have been stripped away at the Ben Thanh. Everyone shopping here is a tourist, and everyone selling is ultra-aggressive. The atmosphere inside the market is unlike any we've seen elsewhere in Saigon. It's horrible.
There is one cool thing inside the market. Near the main entrance, you can ascend a hidden flight of stairs, which lead to a small temple. From here, you have a great view of the chaos from which you have just escaped. Look for the stairs near Stall #86.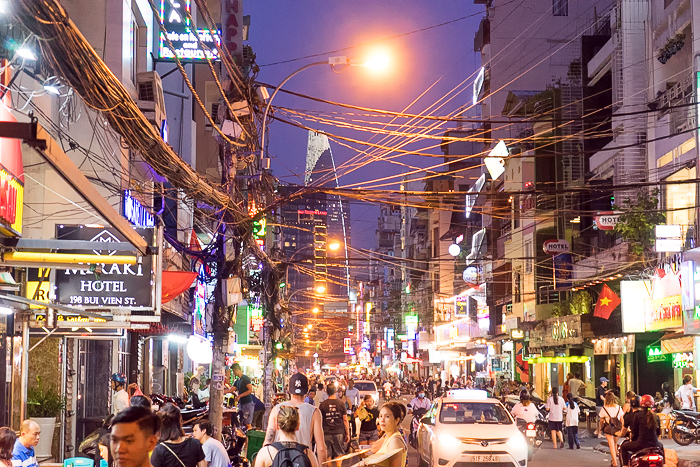 Now. Since you're already in a bad mood, why not head over into the Backpackers District, and get that out of the way? It's what we did. I'm sure we're going to receive some backlash for our opinions on this neighborhood. There are a lot of people who love the Backpackers District… most of the people we've met, actually. But whatever, it's not for us.
Let me tell you who it's for. Backwards-ballcap bros. Skeezy sketchballs looking for a "special" massage. Nervous ninnies who would like their Vietnam experience without all the Vietnamese things. Those who think a bar named "Crazy Buffalo" sounds like a guaranteed good time. Anyone who'd rather eat a hamburger in Saigon than pho.
I'm sorry… I sound bitter. The truth is, 20-something Mike might have loved the Backpackers District. The bars are popular, and it's not like "immersing oneself in local culture" is the only valid way to see the world. Many travelers, and especially young backpackers, are concerned mainly with having a good time, and "wild fun" looks to be in strong supply. So, fine, little red-eyed backpacker, you have our blessing. Go nuts.
The best thing about the Backpackers Distrct and Ben Thanh Market is that they act as a magnet for the aspects of Saigon we'd most like to avoid. Everything that sucks about being a tourist has been condensed into one manageable area, leaving the rest of the city remarkably hassle-free. Visit literally any other market than Ben Thanh, and you'll probably be the only foreigner! People will treat you normally, and you won't be ripped off (too badly). And since everyone knows that you go to the Backpackers District if you want to party like a frat boy, all of the city's frat-boy party bars are concentrated there.
There is one spot we love in the Backpackers District. Search out the aptly-named Rooftop View Bar, where the drinks are cheap, the view is amazing, and the atmosphere is surprisingly subdued. Maybe the elevator presents too big a challenge to the party crowd.