We had planned on staying in Vietnam for just three months, but when the time came to choose our next destination, we weren't quite ready to leave. After spending so much time in the south of the country, how could we neglect the north? Just one problem: our visas were set to expire. I've heard Cambodia is nice this time of year. How about we visit for a couple minutes?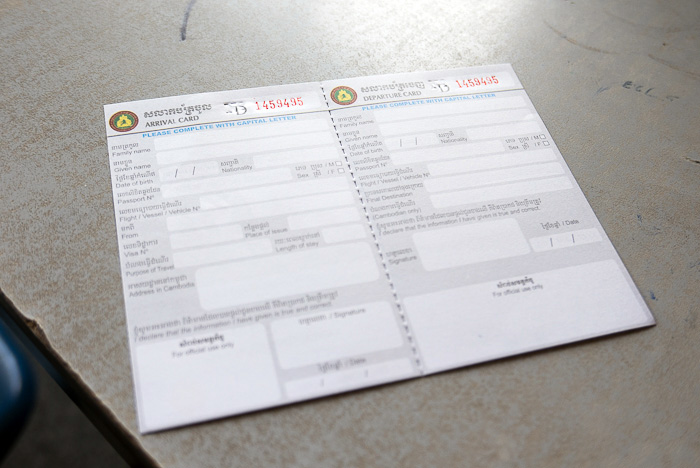 It would have been better to take a leisurely weekend trip to Thailand, or spend a few days exploring Taipei, but we were short on time, so opted for the fastest option available: a bus ride to M?c Bài at the Cambodian border, just 60 kilometers west of Saigon. Waltz over the border and back again, with shiny fresh Vietnamese visas in our passports, then hop on the bus back to the big city.
And that's basically how it went, although it was more a slog than a waltz. No major complications arose, but the whole process took around nine hours, and most of those hours were thanks to a single border guard. But I'm getting ahead of myself.
Recipe for a Vietnamese Visa, M?c Bài Style
*Official Approval Letter
*$30 for the Cambodian Tourist Visa
*$25 for the Vietnamese Tourist Visa
*A Few Extra Bribin' Dollars
*Invitation Letter for Vietnam
*Passport-Sized Pictures (2)
*Pen (You will want your own!)
*Pack Lunch
*Patience
The first step in this process is arranging your Visa Approval Letter. You almost definitely had to do this when entering Vietnam for the first time. The only difference is that, if you're renewing your visa, the letter must be original and not printed out from email, so make sure to do this well in advance. We used and can recommend a company called My Vietnam Visa Pro, who processed our application quickly and provided a lot of great advice along the way.
Once you have secured your letter, the next step is easy: getting the bus to the border. We went to a bus station at Ph?m Ng? Lão (exact location) and boarded bus #703 to M?c Bài. The bus departs semi-regularly, costs ?40,000 one-way, and takes roughly two hours depending on traffic.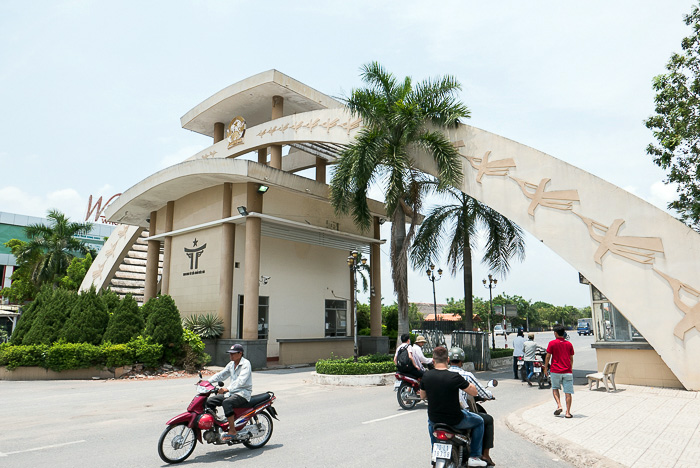 After being dropped off at the end of the Vietnamese road, we completed our journey to Cambodia on foot. While waiting in line to exit Vietnam, I noticed that most locals would tuck a bill into their passports before handing them to the border guard. This little bribe doesn't seem to be expected of foreigners, and the guard stamped our passports just as quickly as those from the locals.
The visa process at Cambodia was quick, but labyrinthine, and I'm reluctant to describe it in detail. It's safest to just ask a guard once there. We had to go twice to the visa office, and three separate times to the passport check; twice to pick up different forms, and a third time for the stamping. It was confusing, but at least all the Cambodian agents worked relatively swiftly. Make sure that you actually take US Dollars, as opposed to Vietnamese Dong, because this is what they'll all expect. You can exchange cash on-site, but at a disadvantageous rate.
Isn't Cambodia wonderful?! Let's snap a selfie… aaaand we're out. We cut across the parking lot, and entered the other side of the reception hall, a cavernous warehouse occupied exclusively by spiderwebs and border agents. M?c Bài apparently harbored grand dreams, because there are signs for duty free shopping, and even a mall built outside the border. But everything is empty, either abandoned or never occupied in the first place. There's not even much to eat or drink (I was serious about that packed lunch!)
It's a depressing place, but at least things were going smoothly. However, we hadn't yet made the acquaintance of the slowest, laziest, most corrupt border guard in existence, whose job it was to paste Vietnamese visas into our passports. While the line grew and grew, he sat in his office and opened his little window once every twenty minutes or so. The walls of his office were opaque, so we could see his silhouette — and unless he was able to write visas while kicked back in his chair, arms stretched behind his head, he wasn't working too hard.
The meanest thing was, while we were dying of heat in the miserable processing station, he was living it up in the AC. Every time his window opened, a blast of cool air rushed out, and all us visa aspirants rushed forward, less to demand service than to be touched by the breeze.
No wait. The meanest thing was that, after taking three hours for the three-minute task of pasting a visa into our passports, he had the gall to demand a bribe! Being prepared, we knew that the visa cost $25, but he wanted $30 and was insistent about it. "Not $25, no! You pay $30!" Perhaps if he had processed our visas quickly, we'd have given in, but we were sweaty, angry and out of patience. After a lengthy back-and-forth, he took the $25, laughing spitefully as he closed the window in our faces. Another half-hour wait, and we finally had our visas.
90 more days in Vietnam! Exhausted but happy, we boarded the bus back home. This visa run certainly wasn't a "fun" experience, but it was relatively quick and cheap… and the permission to stay three more months in this incredible country makes it more than worthwhile.
Locations on our Map: Bus 703 Pickup | M?c Bài