The View from the Bitexco Tower
At 262 meters in height, the 68-story Bitexco Financial Tower is the tallest building in Saigon. We ascended to its sky deck, to take in a 360-degree panorama of the big city.
When the Bitexco Tower opened in 2010, it was Vietnam's tallest building. And although its title was overtaken a year later by Hanoi's Keangnam Tower, the Bitexco has remained an internationally-recognized landmark. The inspiration for its elegant, slightly-bowed shape was taken from Vietnam's national flower, the lotus. The horizontal "leaf" which sticks out of its side, about two-thirds of the way up, isn't the viewing platform (as we had hoped) but a helicopter landing pad.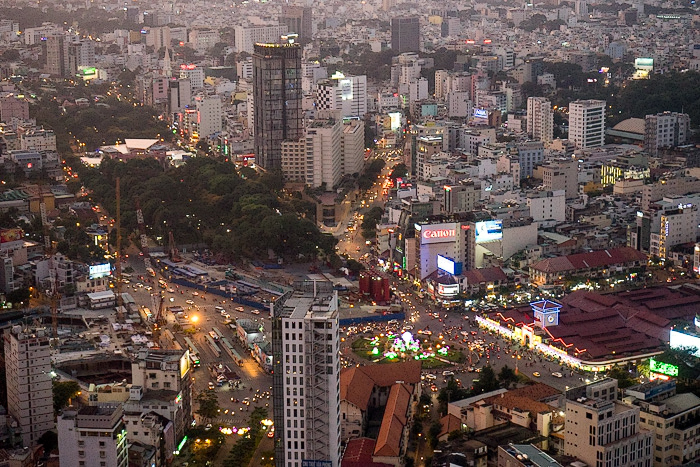 The Saigon Skydeck is actually found just below the helipad, on the 49th floor. From up here, you get a great sense for just how big the city truly is… and how much potential it still has for growth. I was shocked by how much land remains to be developed; Saigon is already a metropolis of eight million, but it seems likely that number will increase dramatically in the near future.
The Skydeck provides a number of touch-screen monitors that help you identify the city's most important sights. There are also binoculars (which we didn't make use of) and free bottled water (which we did). And you can check out a small museum dedicated to the Ao Dai: the traditional dress of Vietnamese women. The observation deck isn't perfect, unfortunately; we found the windows fairly dirty, and many were covered with a strange polka-dotted foil. But these are minor gripes; the view of Saigon is still unbeatable.
Once you've done a couple loops, you can grab a seat in the upstairs bar, listen to some live music, and wait for the sunset. Find a seat early, though, as the west-facing tables get snapped up quick. The drinks aren't cheap, but the opportunity to watch the sun go down over Saigon is worth it.