Tet Madness and a Lion Dance in Cho Lon
Like practically every large city in the world, Saigon is home to a bustling Chinatown. Known as Cho Lon, this large neighborhood has a history which stretches back to the earliest days of Saigon itself. We visited during the Tet holiday to check out some of the Chinese temples, and happened upon a traditional Lion Dance.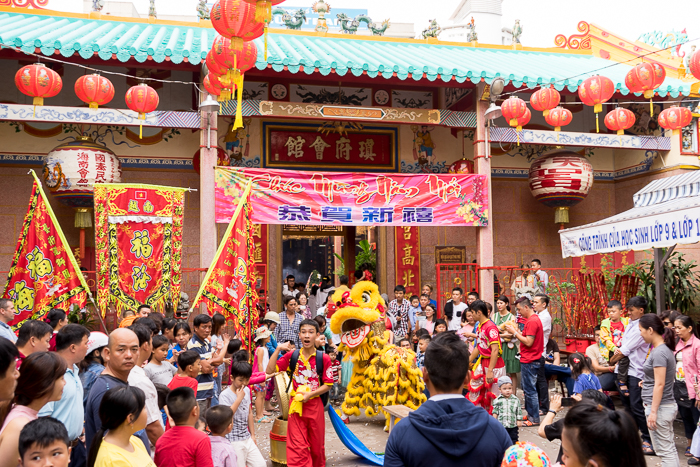 The Lunar New Year is a big deal for both the Chinese and Vietnamese, so we weren't surprised to find Cho Lon in a state of frenzy during our visit on the day before Tet. Our taxi dropped us off at the temple of Thien Hau, founded in 1835 by Cantonese worshipers of Mazu, the Chinese Sea Goddess (Thien Hau is her Vietnamese name). Mazu is popular among overseas Chinese communities, presumably because she protects travelers.
Hundreds of people were crammed into the temple, all of them carrying sticks of incense, and dozens of burning coils were also attached to the ceiling. It was… aromatic. An elderly lady acknowledged my reddened, watery eyes with a beatific smile. "Yes, ma'am, I've been moved to tears by the beauty of your temple. That's it."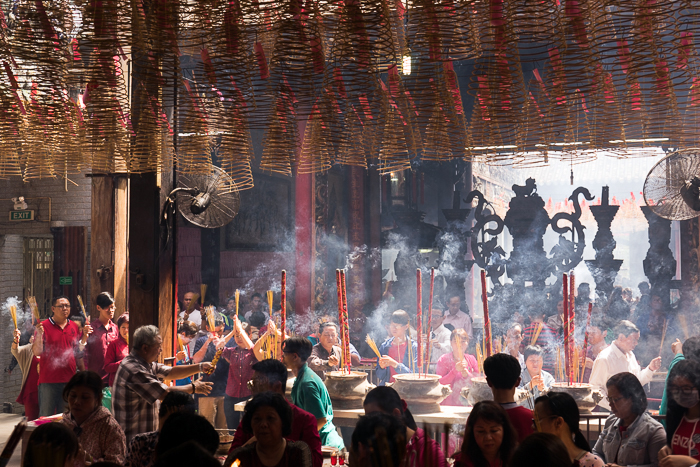 The tears were caused by the incense, but I was truly moved by the scene. The Thien Hau Temple during Tet is a powerful sight, with the flowers, smoke, bowing and chanting. And the temple itself is beautiful, as well, with wooden carvings and ceramic figures depicting scenes from China's landscapes and history. There are three bronze statues of Mazu in the altar, and a large replica boat on one side of the temple; as Goddess of the Sea, Mazu protects sailors and seafarers.
After leaving the Thien Hau, we wandered aimlessly along the streets of Cho Lon, until hearing drumbeats off in the distance. We followed the sounds until arriving at another temple, the Chua Ba Hai Nam, where we were delighted to discover a troupe preparing to perform a Lion Dance in the courtyard. These performances are a popular part of Tet… you can see them in front of many of Saigon's hotels, but we had been hoping to find one in a more authentic setting. And here it was.
The performance was both nerve-wracking and hilarious. The lions danced about the crowd, collecting donations and eliciting squeals of happy terror from of the younger children. One of the two-person lions performed a death-defying dance atop a series of columns; I don't know how they were able to see underneath the costume, let alone leap from pillar to pillar. And another guy climbed to the top of a tall, unsteady pole for some acrobatics. The dancers also performed a mesmerizing dance with a long dragon on sticks. The show lasted for nearly an hour, accompanied the whole time by drums and ringing cymbals.
Cho Lon during Tet is something else. We'll have to return to the neighborhood again, to see what it's like on a normal day, but this was an entertaining first impression.
Locations on our Map: Thien Hau Temple | Tam Son Hoi Quan | Chua Ba Hai Nam
–Cheap Flights To Ho Chi Minh City