Saigon Street Food Journal #4
We were already feeling overwhelmed; just within the bubble of our Saigon neighborhood, there were so many dishes to try. And once we started travelling around the country, we realized that every region has its own specialties. Forced to accept that a comprehensive exploration of Vietnamese cuisine would be impossible, we decided to just relax, and consume as much as we could. We might not be able to sample every dish, but it would be a most delicious failure.
Journal #1 | Journal #2 | Journal #3 | Journal #5
Bánh Mì Ôp La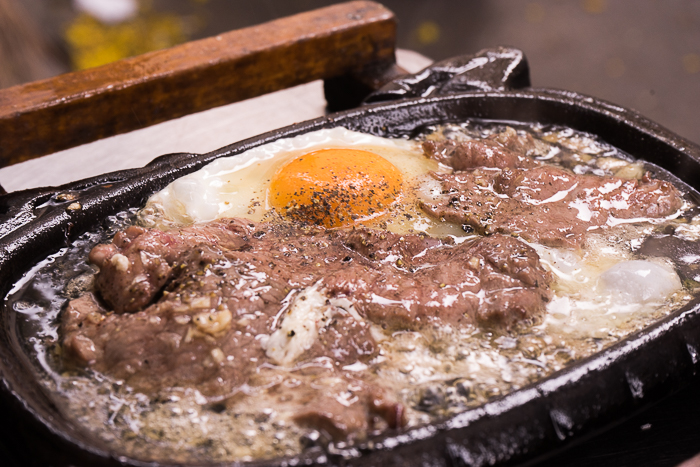 Like most visitors to Vietnam, we quickly became addicted to the Bánh Mì: sandwiches stuffed with all manner of meat and veggies and sauces, for cents on the dollar. Our regular on-the-go breakfast is a Bánh Mì Trứng, which is a baguette with fried egg. But when we have time to relax, we'll sit down at a cafe and order Bánh Mì Ôp La; it's basically that same baguette, but with all the ingredients served separately on a plate. Fancy! And if we're going to need a lot of energy, we'll get the Bánh Mì Chảo, which is the same thing, served with meat.
Location: Try this at the simple Cafe 47 (also one of our favorite working cafes)
Bò Pía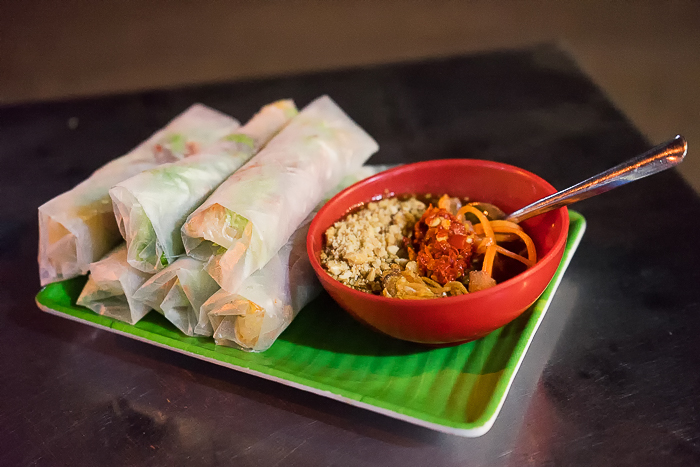 There seem to be a lot of words for "spring roll" in this country, and none of them are similar to the other. There are chả giò (which are fried), gỏi cuốn (which are not), and nem rán (which as far as we can tell are identical to chả giò). So we weren't all that surprised to run into yet another totally new phrase for "spring roll": Bò Pía. This seems to be a vietnamization of the Chinese "popiah" fresh spring roll, and is normally filled with slices of sausage. As the word "snow" is to the Eskimos, so is "spring roll" to the Vietnamese.
Location: We first tried these at a neighborhood shop called Ha Cao.
Cá Lóc Hấp Bầu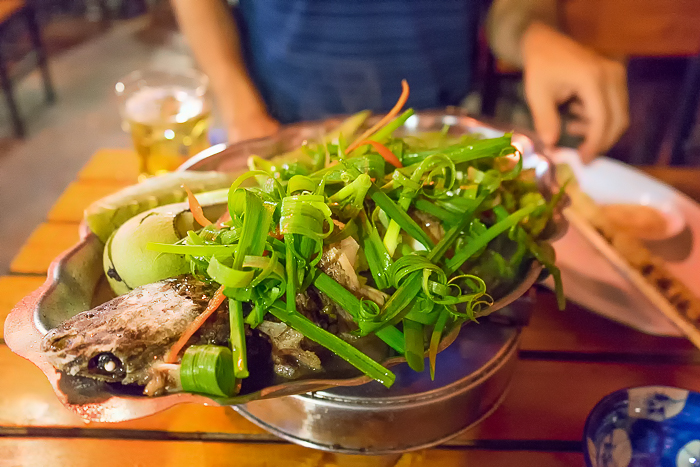 Part of our dining ritual consists of waving away impatient waiters while we perform image searches on the plates listed in the menu. When I saw the pictures of Cá Lóc Hấp Bầu, and then saw the price ($4), I ordered it right away. This was a massive snakehead fish steamed with an opo gourd, and it was incredible. The dish was really meant for two people, but Jürgen's not a fan of seafood, and I didn't mind having it all to myself.
Location: I ordered this at a popular restaurant in Can Tho called Quán Nhậu Bình Dân Cường Kòi
Sâm Linh and Rau Má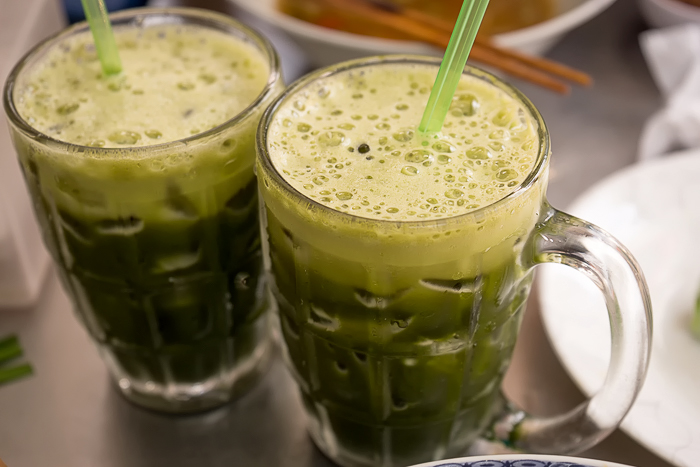 Usually sold for around 20 cents per glass, sâm lạnh is something like "cold herbal drink". It tastes slightly different every time we order it… probably because every restaurant mixes their own concoction. I doubt there's an "official list" of what's supposed to go into sâm lạnh… the only ingredient that seems to be a staple is sugar.
Another popular drink is Rau Má (pictured), which is made from a spinach-like leaf. Unlike sâm lạnh, rau má always tastes the same. You ask Jürgen, he'll say it tastes like "health in a glass". Me, I'll say it tastes like a swamp. Guess which one of us ordered this more often.
Location: Just about anywhere.
Mì Xào Giòn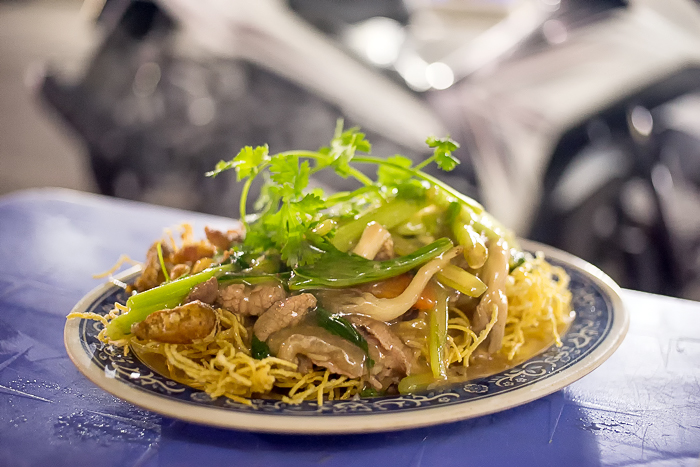 Crispy fried noodles, served in a rich sauce with pork and steamed veggies, this is a dish of Chinese origin. We've come to recognize the word "mì" as "packaged ramen noodles". They're often served (still in their plastic) as an accompaniment to hot-pots, or unwrapped and cooked as a meal… such as with mì xào giòn.
Location: You probably don't have to search long to find these, but we enjoyed them at a shop in our neighborhood.
Sua-Dau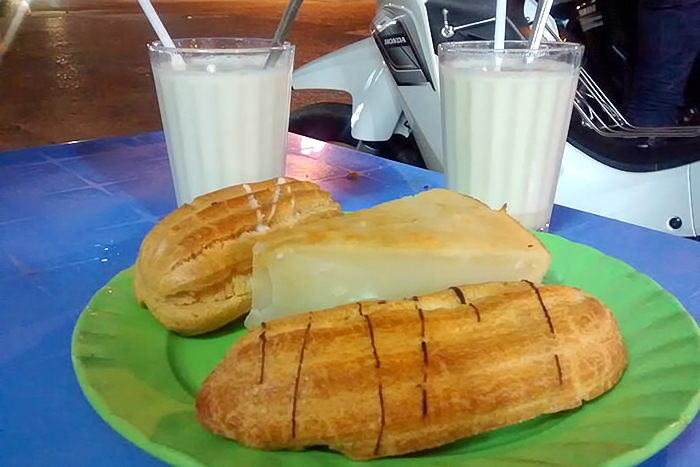 We were surprised to find a shop in Dalat whose specialty was Sua-Dau, or soy milk. Who needs a soy-milk shop?! But it seemed popular, so after dinner one night, we sat down to try it out. And it was pretty good. Served hot and sweet, and best accompanied with little cream-filled eclairs, soy milk makes for a surprisingly delicious dessert.
Location: Sữa đậu nành Nguyễn Văn Cừ