A Slow Boat Down the Mekong
Part of Can Tho's charm is that there isn't a lot to do. The city practically forces you into a state of relaxation; it's hard to stress about "seeing all the sights", when there aren't many sights to see. The entire itinerary for our first day was "Boat Ride", so when the tour turned out to be six hours long, we didn't mind.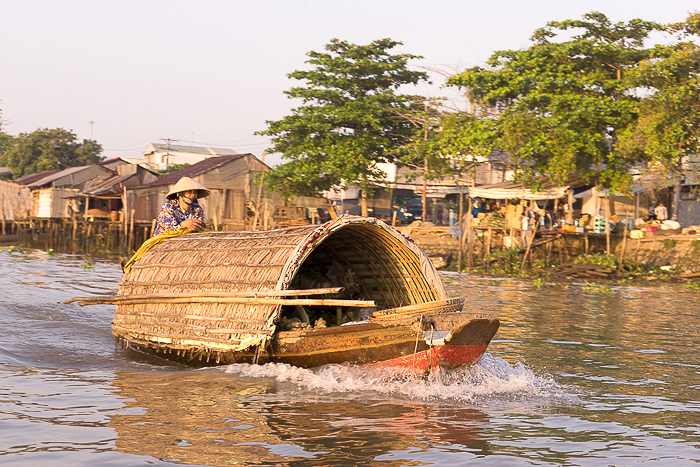 If you're a visitor to Can Tho, it's a good bet that you'll be taking a boat ride on the Mekong. It's just what tourists do. We decided to try our luck by walking along the Ninh Ki?u Pier, and allowing tour operators to approach us. In any other city, this would be a sure-fire recipe for stress, but in chilled-out Can Tho, even the guys hawking boat tours are relaxed. A simple "no thanks", and they will totally leave you alone. We talked to a few, and eventually scheduled a reasonably-priced trip on a tiny boat from a woman who spoke good English.
At 5:30 the next morning, we boarded our tiny boat and met our captain for the day: a different woman who spoke absolutely no English. She was weirdly grim for most of our tour, but would suddenly unleash wild cackles in the most random situations. So, we couldn't decide if she was "kinda fun", or just plain crazy. The one thing we did know, was that she was the slowest sailor on the seven seas.
We had gotten an early start, but this hardly mattered. As we crawled toward the Cai Rang Floating Market, we were passed by dozens of other tour boats. Large ones, small ones, all of them zipping right past us. Despite having a motor, we were unable to pass even rowboats. I turned around to ask Captain Sloth if she might turn it up a notch, but she flashed me such a snarled grimace, that I decided against it. She was steering with her butt, I noticed.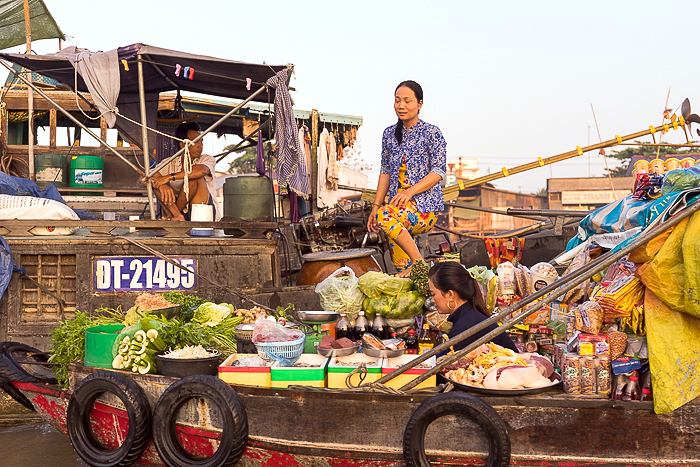 Anyway, we got to the Cai Rang market at around 7:00, which was actually good timing, because the sun had fully emerged. We had seen another floating market in Cai Be, but this one was far superior. Dozens of boats were out in the water, selling bananas, pineapples and coconuts. I called a coffee boat over, and got nervous when it bumped into us — I didn't want to further anger Captain Sloth. Happily, bumper boats turned out to be one of the things which triggered the cackles.
We had paid for a five-hour tour that would bring us to both the Cai Rang and the Phong Diem Floating Markets. Phong Diem, we knew, was at least a dozen kilometers up the river. We also knew that it wrapped up early, and that by eight, the boats would start to disperse. So as we made our agonizingly slow journey upstream, being passed along the way by turtles and dragonflies, we understood that there was no way we'd be on time. Instead, we leaned back and just enjoyed the ride.
This might have actually been my favorite part of our tour. The scenes of life along the Mekong were really lovely, and the unhurried pace allowed us to take it all in. But then we stopped at a touristy "village", where we were compelled to disembark and visit a rice-paper factory, where Honored Tourist will yes to purchase many nice gift for family. Talk about spoiling the mood!
When we finally came upon Phong Diem, we saw a cluster of boats and our hearts surged. It might not be too late, after all! But we soon realized that all these boats were full of tourists. This felt like a trick; we talked to other foreigners, and all of us had been sold the "double market" trip. But I think it's simply not possible to leave from the Ninh Ki?u Pier and make it to both Cai Rang and Phong Diem on-time. If you want to see the latter, it's better to reach the town of Phong Diem by land, and then hire a boat. Be wary of tour operators telling you otherwise.
We stopped for a nice lunch at a restaurant overlooking the river crossing at Phong Diem, and then piled back into the boat. Now that we were on return leg, the slowness of our boat had lost its meager charm completely. We knew exactly how far we had to go, we'd already seen the landscape, the sun was hotter than ever, and we were beyond sore. It took hours to finally arrive back at Ninh Ki?u, and I couldn't wait to spring onto shore, find a bathroom, and spend an hour rubbing feeling back my buttcheeks.
If we had it to do over, we'd have passed on the "double market" trip. Another tour offers to take you through the back channels, after having seen Cai Rang, and this would have been the better option. I also would avoid the unofficial tours; we later saw signs at the pier, listing the official tours with official prices. It's probably safer to go with them. We thought hiring a private operator would allow us to skip the "touristy" things, but that's not the way it works.
The tone of this article is rather whiny, which obscures the fact that we had a nice day out, overall. It could have been better if we'd known more beforehand, but we didn't get ripped off or anything, and our slow boat down the Mekong with Captain Sloth is something we'll remember for a long time.
–Download Our Travel Puzzle Game
Locations: Ninh Ki?u Pier | Cai Rang Market | Phong Diem Market