A Delta Tour around An Binh
It's unavoidable. If you plan on spending any time on the Mekong Delta, you're going to be taking a boat trip. Who visits the Mekong and doesn't take a boat trip? And it's just as unavoidable that, unless you're willing to invest a lot of money, your trip will be pretty touristy. But that doesn't mean it can't also be fun.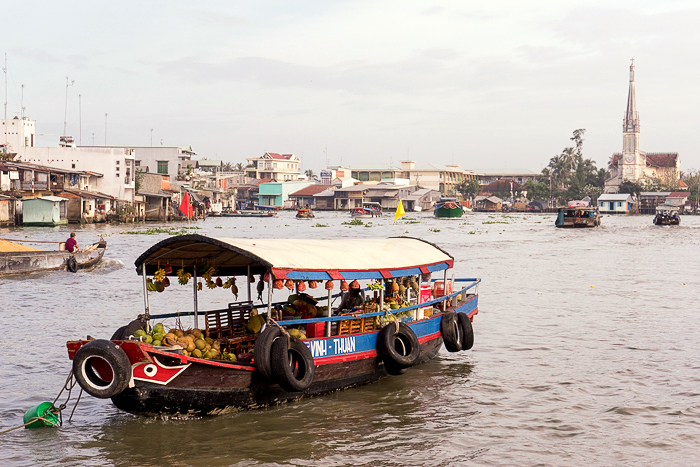 Our tour of the area around An Binh and Cai Be started at seven in the morning, and lasted for about five hours. We weren't sure what awaited us, since the guy selling the tour had been deliberately vague. We decided to pay extra for a private boat, but this turned out to be a waste of money. It was a huge vessel, which could have easily accommodated a dozen people, and we ended up following the same other groups throughout the day. We could have saved a lot of money by hopping on their boat.
The journey itself was great fun. It would be difficult to coast along the Mekong Delta, without being happy — the views of the river are too beautiful, and the scenes of local life too romantic. The various stops we made, however, were hit-and-miss. The first sight along the way was the famous Floating Market of Cai Be. We had read about a stunning collection boats bartering their goods from the river, but the market simply isn't what it used to be. The only people shopping on the paltry handful of boats were tourists. The Floating Market has apparently fallen victim to progress; in an age of good roads, bridges and trucks, it no longer makes practical sense.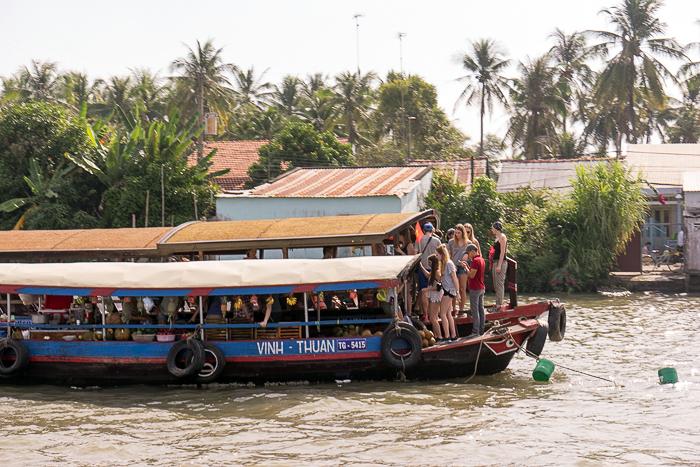 Luckily, Cai Be's regular, non-floating market is still a lot of fun, and this was our next stop. We had about twenty minutes to walk around, and took time to appreciate the beauty of the town itself; with its houses built right along the busy river, it looked like a Vietnamese version of Venice.
Our next stop was at a bee farm. The less said about this, the better. "Look at bees! Sit down, try our honey. BUY OUR HONEY? Buy, yes? Buy honey, so good so healthy!" Ugh, we made our exit as soon as possible.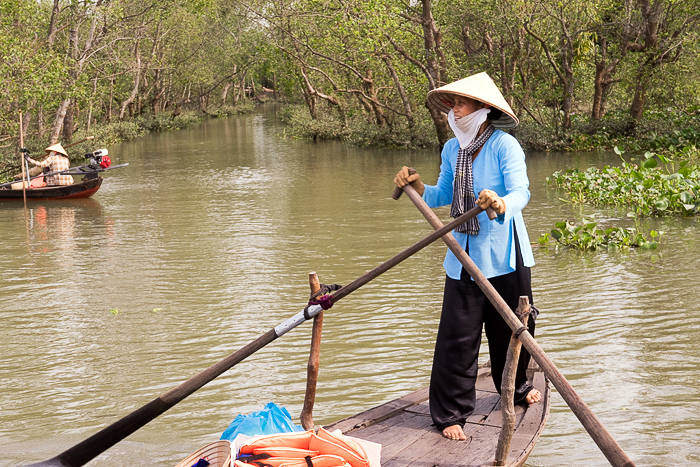 From here on out, the tour improved markedly. We pulled up alongside a canal, where a woman was waiting for us in a canoe. We switched into her boat, put on Vietnamese hats, and let her paddle us along the tiny stream into a gorgeous, rural area. I felt bad that this little lady had to row two much bigger, younger men, but … eh, it's her job! It's not like she would have allowed me to play the gentleman, so I just leaned back and enjoyed the ride. Anyway, she was surely stronger than both me and Jürgen combined.
Our last stop on the tour was at a candy factory. We had feared a repeat of the stupid bee farm, but this was a lot more entertaining, and we'll be writing about it separately, soon.
As we motored back to our homestay on An Binh, I stretched out on the boat's hammock, and fought off sleep while watching the scenes of life on the delta play out behind me. In all, it had been a fun day on the water. I'm sure there are better, more personalized tours to be found, but this wasn't bad.
Location of the Cai Be Floating Market
–Book Your Vietnam Hostel Here