The Pagoda of the Jade Emperor
The Pagoda of the Jade Emperor (Chùa Ng?c Hoàng) is one of Saigon's most well-known temples. We visited on a weekday afternoon shortly after Tet, joining hundreds of worshipers inside its walls.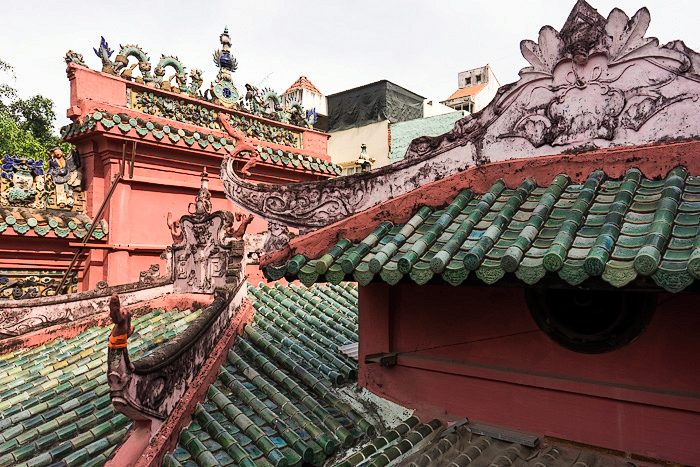 The pagoda was constructed in the early 20th century by members of Saigon's Chinese community. The Jade Emperor is a representation of the first or supreme God… so he's a pretty important guy to keep on your side. That would explain the unbelievable number of people we found crammed into this temple, all of them offering prayers, incense sticks, or their hard-earned cash.
Before entering the pagoda, we watched the action in a pond filled with far too many turtles; this pond lends the temple its nickname, the Turtle Pagoda. I felt sorry watching the little guys climb over and on top of each other, desperate to claim one of the pool's few dry spots. Many of the turtles had calligraphy painted on their back in white; apparently, this is another way to make your tribute to the Jade Emperor.
On the right side of the temple, we found stairs leading to a room dedicated to Quan Am (the Goddess of Mercy) and a small outdoor patio. The entire pagoda was beautiful, with intricate woodwork and impressively scowling statues, but the patio was probably our favorite area. Not only was it relatively isolated from the crowd, but there was a beautiful view of the structure's tiled roofs. Even the backs of the temple's entry gates have been richly decorated, despite the fact that few people must ever see them.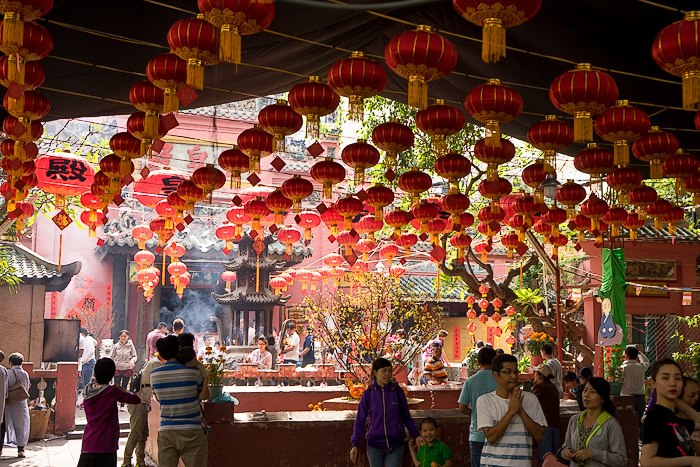 The Pagoda of the Jade Emperor is mainly Taoist, but also has a few Buddhist statues; this type of mixing and matching seems to be common in Vietnamese temples. I've realized that the more I'm exposed to the country's religious scene, the less I understand it. Relatively few Vietnamese strictly follow an established religion; Buddhism is the most popular, and it claims just 12% of the population. Most people here are either atheist, or subscribe to one of the country's innumerable "folk" religions. These are local in nature, highly syncretic, and place a high value on ancestral worship.
I've decided that religion in Vietnam is like the traffic. People are generally expected to follow "rules", but everyone really just does whatever they want. Drive in the wrong lane, or on the sidewalk? Whatever! Worship both Buddha and the Jade Emperor? Why not? It's bewildering to newcomers, but I suppose it all works. Personally, it makes no difference to me what the Vietnamese believe, as long as they keep building places of worship as stunning as the Pagoda of the Jade Emperor.