The AO Show at the Saigon Opera House
Built in 1897 by French architect Eugène Ferret, the Saigon Opera House is one of the most spectacular pieces of colonial architecture in the city. It's worth visiting even if you're not going to catch a performance, but we can recommend the AO Show, put on by the Luna Production Company.
Now officially known as the Municipal Theater, the Opera House is found between two of Saigon's most historic hotels, the Intercontinental and the Caravelle, and was designed to resemble the Petit Palais in Paris.
If you only visited this section of the city, from the Opera House to the elegant Post Office, you'd come away with a very inaccurate understanding of modern-day Saigon. But I suppose the same would be true if you didn't see this area at all.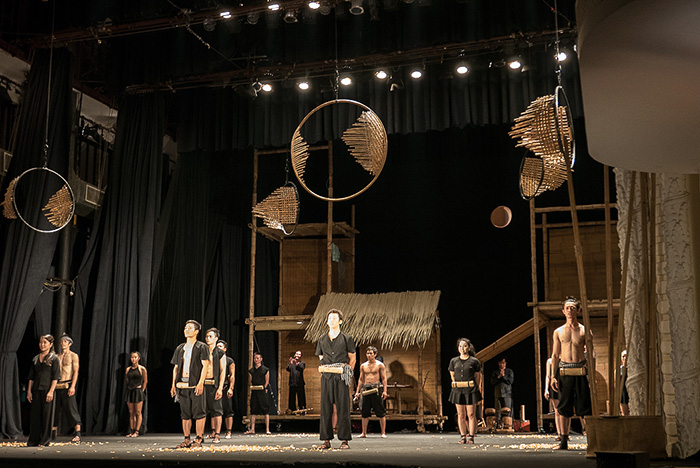 Opera is no longer staged at the Opera House, but there are frequent classical music concerts and performances such as the AO Show, for which we had bought tickets. A mix of music, dance and acrobatics, similar in spirit to the Cirque du Soleil, this show was a lot of fun. It was built around a loose narrative, about the shift from rural to city life, and the performance struck a perfect chord between thrills and amusement.
Our ticket included a short guided tour of the opera house. In colonial days, the theater was strictly for the amusement of the city's French population, and very few Vietnamese were allowed inside. After the war with France, the building was turned over to the government and became the seat of South Vietnam's Lower House. It returned to its original function after the American War, and was fully restored in 1995.
It was a little dispiriting to look around at the audience during the AO Show. Vietnam has come a long way since the early 20th century, but not much has changed in the ethnic makeup of the audience at the Saigon Opera House. Almost everyone in attendance was a foreigner. For the average local, the price of a ticket is still prohibitively expensive, and they don't get any sort of residential discount. That's a shame.
AO Show – Official Website